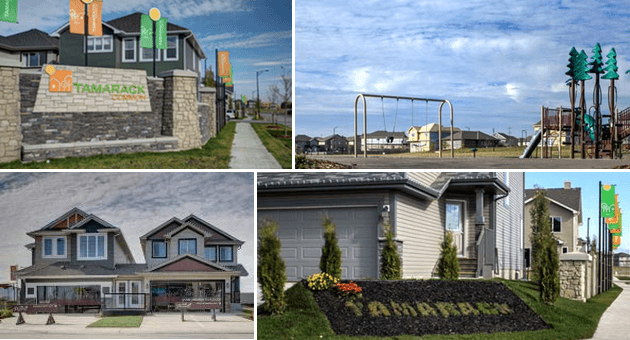 There are so many reasons why you need to live in Tamarack Common! Tamarack is one of Edmonton's most up-and-coming new communities. In Tamarack Common we're not only minutes away from the Anthony Henday and Whitemud, but brand new schools, countless shopping centres, transit, and recreation are all only moments away.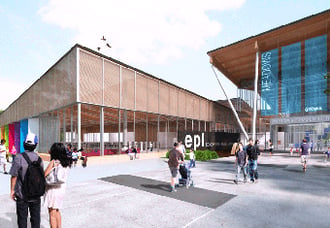 Although Tamarack has been called home by many great Edmontonians for years, it only continues to develop and mature towards its full potential. For instance, nearby you will find the brand new Meadows Recreation Centre - a whopping 234,419 square feet! It has an impressive variety of amenities, including: multiple pools, a waterslide, a fitness centre, gym for volleyball, two NHL-sized ice rinks, and a library - just to name a few.
Tamarack Common is truly a community focused on family and convenience. And for the outdoorsy members of the family, the 620-acre area has has over 67 acres of green space with parks, recreation areas, natural reserves and lakes. For all you animal lovers, there is 2 km of tree-lined paths - perfect for walking the dog - that lead to an urban plaza and park.
We are the Riverbend of the south east: great amenities, great people, and great value. Your life investment is sure to stand the test of time as this area continues to develop and mature to its full potential. The residents of our great community are speaking. So don't just take it from us, check out what these excited residents have to say about their experiencing living in this booming neighbourhood! Here are some of the reasons you need to live in this neighbourhood:
"The rec center is so close we are there all the time. It has great parks and a bunch of shopping so close." - Varjinder

"It's a new area that's really quite and has a nice park. We spend a lot of time there with our son and the neighborhood kids. Plus there is tons of shopping so close" –Yegor

"We are far from the train so it is quiet. The rec center is really close and is a great place to meet people. It is a really quiet area and has easy access to the highway. Plus the ravines around here are really nice and peaceful." – Rajiv

"It is the birds chirping and the kids laughing that keep me walking around Tamarack Common. Knowing that I have so many friends and great neighbors close keeps me wanting to tell more people that you need to live in Tamarack." – Jojo
If that doesn't convince you already, then come see for yourself!
Show Homes
Our Tamarack show homes provide an insider look and information on our single-family and duplex model homes.
We have our luxurious Secretariat model: a 2,589 square feet, four bedroom, two-and-a-half bathroom home, located at 2804 – 16 Street NW. This is a gorgeous layout, and tray ceilings throughout this model add beautiful detailing.
Our beautiful Maddy II model at 2808 - 16 Street NW showcases 1,984 square feet, three bedrooms, and two-and-a-half bathrooms. This is a very popular option, and it's easy to see why! The layout was designed with convenience in mind. Both of these homes include a spacious front attached double garage.
We also have our Eclipse model at 1503 Tamarack Blvd NW. This laned home stands tall at 1,460 square feet, with three bedrooms and two-and-a-half bathrooms. It truly is a perfect family home!
Feel free to take a tour of one (or all!) of our show homes. They are available to view Monday to Thursday from 3:00 - 8:00 pm, and Saturday & Sunday from 12:00 - 5:00 pm.
You need to live in Tamarack Common!