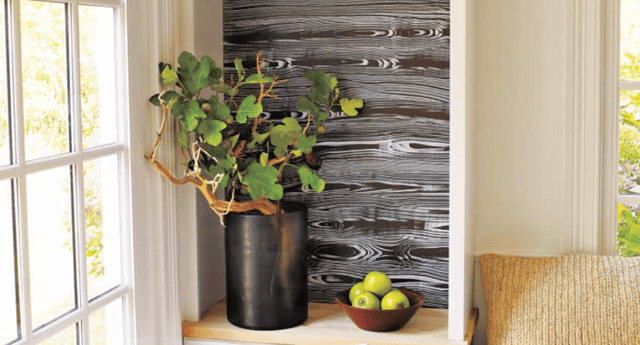 So you want a wall that grabs attention. That stands out from the rest.
You've thought about painting one wall in a different colour than the rest of the room, but somehow, that doesn't seem like enough. On the other hand, covering the wall completely with slices of wood sounds like a bit too much.
We think we can help you pick an accent wall design that's just right! Here are some ways you can change not just the paint colour, but the painting technique you use to instantly captivate looks of awe.
A Nice Touch
For a wall that – literally – jumps out at you, try applying paint to achieve the illusion of texture. This can be done a number of ways, depending on the "feel" you're going for. Some popular (and quite easy) ways to do so include:
A Little Chromatic
If you're not a fan of the textured look, that doesn't mean your walls need to appear "flat". Experiment with colour by mixing, layering, or simply purchasing a "specialty" type of paint for a charming finish. Here are some colourful ideas:
Ombré - Do you find yourself lost in the beauty of the colour gradient cast by sunsets? Make it a more permanent view by painting an

ombré wall

. Take your favourite colour in an array of hues that can blend together for a soft, soothing finish.
Colour Washing - Can't decide between two complementary colours? Use both!

Colour washing

is a paint application that allows you to mix two or more hues by applying them with random sweeps then eventually blending and softening out any harsh markings. You can be as wild as you want with this one – it's meant to look imperfectly perfect.

Finishing Coats - To add a little extra "oomph" to a wall in a colour you love, try out a coat of paint for a specific effect. For instance, Valspar Paint offers types of paint "faux finishes" such as

brushed pearl

for an iridescent finish or a

crackle glaze

for that weathered look.

Types of Paint - Opting for an unusual type of paint can be enough for a striking look with little effort. For example, you might choose a metallic paint to give your wall extra shine.

Chalkboard paint

can make for a fun accent wall for a kids' room – it creates a wall they actually can draw all over!
Shapes and Patterns
Stock up on painter's tape and get ready to change your wall from bare to stop-and-stare! You don't need to be an artist to recreate patterns or add decorative designs to your wall – let the tape be your guide. Possible patterns you can do yourself are:
Another option is to use stencils (store-bought or homemade) and this tutorial shows you how to use a projector to paint any graphic on your walls – no art degree necessary!
Playing with how you apply paint to your accent wall can yield eye-catching results. Best of all, the final outcome will be extremely unique – no two walls are likely to turn out the same! So toss your rolling brush aside and try something new for a wall that's totally you.