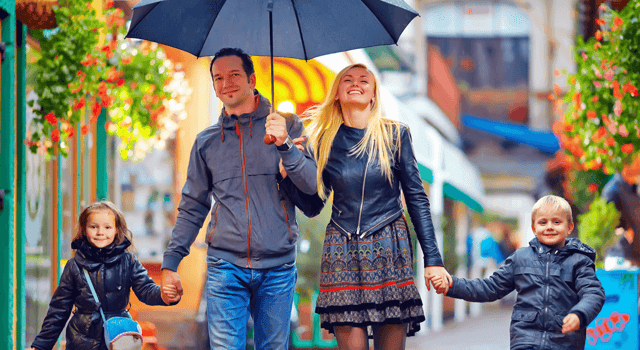 As the saying goes, "April showers bring May flowers", but that's not all it brings! With May comes many wonderful activities for the whole family to enjoy.
Family Outings
Family Favourites – Throughout May
It's a Saturday morning, the kids have had their pancakes, but now they're itching for something to do. Cineplex has your back – every Saturday morning at 11 am, they screen a "family favourite film", for only $2.99! This activity is not exclusive to May, but there are some fantastic upcoming options: The Lego Movie (May 6), Heidi (May 13), Storks (May 20), and Trolls (May 27). Not only is this an affordable way to spend some quality family time, you can also feel good knowing a portion of the proceeds is used to support Free The Children.
SCA Fine Arts Presents Disney's Beauty and the Beast – May 2-5
The recent release of the "Beauty and the Beast" movie has lead to packed theatres. But if you're interested in stepping away from the big screen and introducing your children to some live theatre, then you have to check out SCA Fine Art's performance. The classic (and once again popular) Disney movie "Beauty and the Beast" comes to life in this captivating spring show.
What The Truck?! – May 14
The spring weather isn't the only thing rolling into Edmonton – food truck season is back! On May 14 from 12-7PM there will be a huge event to start the season off right. Gather family and friends and take a trip out to Northlands, just outside the Expo Centre, to get your fill of great food, drinks, and music to delight your senses!
Mother's Day
Mother's Day Silkscreen Printing – May 13
While you should show appreciation for the woman who gave you life every day, May 13th marks the official day to do so. If you don't already have plans, consider treating your mother to something unique and special. SNAP Printshop is hosting their annual Mother's Day event where you can print a personalized design onto fabric to create various novelty items such as pillow covers or tote bags. It will be a day to remember, commemorated by a hand-silkscreened keepsake you made together.
Mother's Day Tea Party – May 13
If your mother used to squeeze into a tiny plastic chair and sip air from miniature tea cups with you as a child, now's the time to return the favour. Treat mum to a Mother's Day Tea Party at the Foundry Room. You'll get to indulge in sandwiches, cupcakes, and of course, tea! But that's not all. You can also have your nails done and browse for a new outfit, all in one afternoon.
Get Outside
Teddy Bear Fun Run – May 13
You may not need the extra motivation to go out and enjoy the sunshine this May, but doing so for the benefit of a good cause is always a bonus. Participate in the first-ever Teddy Bear Fun Run in support of the Stollery Children's Hospital. The whole family can join in to walk, run, jog, or skip for 5km. How you go about getting from point A to point B doesn't matter; it's all about having fun outdoors and fundraising for an amazing foundation.
Celebration of Spring – May 22
This event may involve a bit of a drive, but it's well worth it. The Ukrainian Cultural Heritage Village is hosting a Celebration of Spring for all ages. From fabulous dance performances to costumed role-play, this event is the perfect way to welcome spring and embrace some authentic Ukrainian culture!
May your month be filled with smiles, laughter, and lots of family fun!