Originally Posted: March 27, 2018
Pacesetter Homes' townhomes are like no others in Edmonton. We offer five models of townhome designed with you in mind. That means you get to enjoy exceptional design with the added bonus of no condo fees. Our no condo fee townhomes make owning your own home even more accessible with lower month-to-month living expenses.
Choosing a Pacesetter townhome is simple when you consider all the benefits of townhome living. A townhome is less maintenance than a single-family home, meaning you can say goodbye to hours of snow shoveling and garden work. Relax and enjoy your down time without the stress of maintaining a large exterior.
Living in a townhome comes with an excellent lifestyle too. This style of home means you quickly become part of a tight-knit community. You can enjoy the benefits of neighbourly support without the noise or privacy issues that can arise in a condo or apartment building.
That neighbourly network can help you feel safe and secure in your new home too. When you know your neighbours, you can feel confident in the safety of your community. You can also count on your new, nearby friends to help take in your mail or feed your pets when you're out of town. That's the peace of mind you'll find in your new townhome community!
Our variety of townhome floor plans and locations offer you ample choice to find the right home that's unique to you and your personal style. And because each model is spaciously designed, you'll feel comfortable in your new home.
Affirmed and Alydar
Two of our most popular models are the Affirmed and Alydar models. Each one offers more than 1,300 square feet of living space, with open concept floorplans, 3 bedrooms and 2.5 bathrooms. These townhomes feature vinyl plank flooring and gorgeous quartz countertops. Each townhome also comes with a detached two-car garage and completed front and rear landscaping.
Bristol and Calder
Up next on feature are our Bristol (1,460 square feet) and Calder (1,476 square feet) townhomes. These enormous townhomes can be found on full display in beautiful Walker Summit! The Bristol and Calder each have 3 bedrooms and 2.5 bathrooms yet differentiate with unique floorplans. The Bristol features a front lifestyle room and the Calder offers a handy mudroom space in the rear.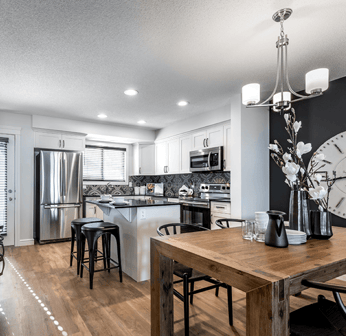 Glenmore
The Glenmore townhome model is an economical spin on the Alydar. Designed in a nearly identical fashion, the square footage is planned with price in mind. You'll still benefit from a walk-in master closet, full ensuite, and double-car garage and landscaping, but at a more affordable price.
Visit a Pacesetter townhome today to see what townhome living with no condo fees is really like.