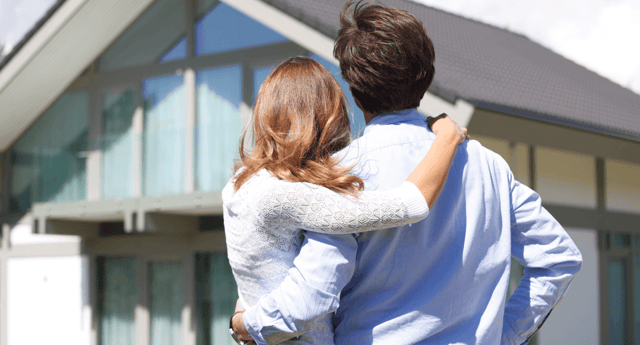 When you bought your first home, you might have only had to worry about giving your landlord notice or reassuring your parents that you'll still visit all the time. It's a much different, and often more challenging process when you already own a home but are ready to move up to a new one.
Selling your existing home first adds pressure to finding or building a new home quickly enough.
Buying a new home first means you're financing two mortgages at once.
So how can we best handle this process? Consider taking these steps.
Know What Your Current Home Is Worth
First and foremost, get a current market evaluation on your home. You'll want to be able to set a reasonable sale price for your current home, so you have better chances of selling. This will also help you stay realistic about how much you'll make on the sale. If you overestimate what you think your home is worth, not only will you have more trouble selling, but if you purchase a home based on that expectation and don't actually earn that amount, you could find yourself "house poor".
Know How Much You Can Spend On A New Home
Speaking of avoiding becoming house poor, getting pre-approved for a mortgage is an important step. You'll learn how much a lender is willing to loan you, giving you a better idea of how much you can afford for a new home. Additionally, if you're already pre-approved for a mortgage, you'd be able to act fast on purchasing your new home when your current one is about to sell.
Try Connecting Closing Dates
Selling your existing home and buying or building a new one at the same time would unfold smoothly if the closing dates lined up perfectly. Things won't always happen the way we want them to, of course, but with some careful planning, you can try to closely line up the timelines.
Take a Risk
If you plan to build a new home, your builder may be able to give you a rough idea of your construction timeline, and you can list your home a couple months in advance of your projected possession date. Then, you'd be able to negotiate the possession date with your buyers to match up with the completion of your new home.
Create Contract Contingencies
If you plan to buy a move-in ready home, actively try to sell your current home while preparing to buy the new one. If you find a home you're interested in, see if you'd be able to agree on a contract that makes the purchase contingent on the sale of your current home. You can do the same with a buyer who's interested in purchasing your home. That way, the finalization of your purchase and sale can happen simultaneously.
Remember, though, there are variables such as the current state of the market (a buyer's or a seller's market), unexpected delays in new home construction, buyers changing their minds about purchasing your current home, and more, that can affect your outcomes.
Build a Bridge
As we said at the beginning, buying a new home before you sell your current one would result in having two mortgages at once. Certainly, if you have the financial means, and are able to get approved for a second mortgage, this is a completely viable option if you're ready to move into a new home but are having trouble selling your current one.
Most people, though, rely on the sale of their current home to finance their new one. However, lenders still provide options in these cases. While waiting for an offer on your current home, you could still put a down payment on a new home by applying for a bridge loan , a short-term loan that literally "bridges the gap" between buying and selling. You'd move into your new home, have extra time to sell your old one, and can use the proceeds of the sale to pay back the loan.
Another option would be a Home Equity Line of Credit (HELOC). This is typically a better option if you're building a new home, because the short term of a bridge loan may not support a new home construction timeframe. Instead, with a HELOC, you're accessing up to 65% of your current home's value to use towards a new one. Again, you'd use the proceeds of your home sale to pay back the loan.
There's no doubt that buying a new home when you already own a home can be a balancing act, but as you can see, there are some steps to take and options at your disposal to help ease the transition. Take advantage of professional advice from your realtor, builder, and mortgage lender to determine the best plan of action for you.