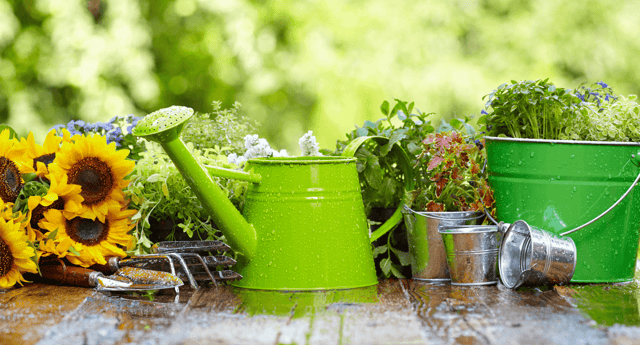 You want to spend more time outdoors. You want to increase the appeal of your home's exterior. You want to start a garden! Just one thing... you've never done it before. For newbies or those who just want a refresher, this step-by-step guide can help you create a garden you can really dig ;)
Step 1: Pick Your Plants
Alright, you're doing it! You're going to start a garden. But what type of garden will it be? Are you interested in growing your own vegetables? Do you just want to beautify your backyard with some colourful flowers? Think about what you and your family like most. You may also want to look into which types of plants do and do not grow well in your region. If you choose plants that are native to Alberta, they'll likely thrive!
Tip: Keep in mind, your next choice will be the location of these plants – if your garden will be smaller, you don't want to choose plants that will spread wildly.
Step 2: Pick a Place
Whether you choose to create your garden in the front or back of your home, the most important factor to think about is the shade and sunlight exposure. For this reason, the location of your garden will heavily depend on the plants you've chosen. For example, vegetables typically need lots of sunlight to grow, so they'll need to be planted in an area that will get about six hours of UV rays a day.
Tip: Make sure your garden is easily accessed by you, with access to water nearby. As much as you can, make sure your garden is not easily accessed by wildlife (or the trampling paws of pets!).
Step 3: Plan Your Pattern
Similar to within your home, there can be design "do's and don't's" for your garden. Think about the size your chosen plants will grow to, and arrange accordingly – you wouldn't want a giant fern overpowering your poor little pansies. Using a grid pattern, and planning your garden in rectangular or square blocks, can help set you on the right track. But edible or not, your garden should reflect your personal taste.
Tip: Use stones or flower beds to give your garden a more unique shape!
Step 4: Prep Your Soil
Seasoned and beginner gardeners alike know that healthy soil = healthy plants. Good soil will be nutrient-rich and the proper texture. Most soils are a combination of sand, silt, and clay, but too much of one element can make gardening more challenging. Feel the texture with your fingers to ensure it's not too grainy or too dense. Adding organic matter, such as compost and mulch, can really improve the soil's fertility.
Tip: Test your soil's pH level; generally, garden soil should be pH neutral.
Step 5: Purchase the Right Stuff
You've committed to starting a garden, so now you ought to look like a gardener! Purchase your basic gardening tools like gloves, shovels, a hoe, and a rake. Next, pick out your seeds and be sure to check for soil type and sunlight recommendations – they will need to be compatible with the home you've prepared for them!
Tip: If you don't feel ready to plant from seed to sapling, get a head start. Purchase plants in small pots from a nursery, then transport them to your garden.
Step 6: Plant With Care
It's that time – dig in there and start planting! If you've purchased seeds, the package should give you all the information you need to plant them. Typically, seeds should be planted about three times as deep as their size.
Tip: You can start your seedlings in pots indoors until you're ready to transplant them into your garden.
Step 7: Promote Growth
The most important aspect of gardening is maintenance – there's always something to tend to in the garden, so be absolutely certain you'll have the time. Things like weeding and pruning are necessary and, of course, watering your garden will be a regular practice. But remember, over-watering can be as damaging as under-watering! Know what's best for your plants. Observe as you go, and over time, you'll notice the patterns and rhythms of your plants.
Tip: "Deadheading" your plants – removing old flowers or thin stems – actually encourages the plants to bloom and grow fuller.
Step 8: Pat Yourself on the Back
Ahhh, finally! Give yourself a green thumbs up for all the hard work you've put in to creating your very own garden. Then, sit back, relax, and take it all in.
Starting your own garden can be an extremely rewarding and enjoyable experience. Savour that bite into a big juicy tomato you grew yourself, or delight in the beauty of your vibrant tulips. Our final tip: Don't relax for TOO long, your garden will still need nurturing!