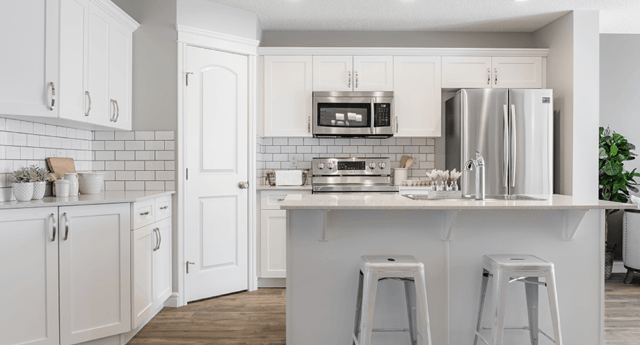 Many home buyers have questions when it comes to Pacesetter's Quick Possession Homes:
"What are the benefits of a quick possession home?"
"Are there any major differences in the quality of the finished product?"
"How does the finished home look?"
Here are some pros and cons to help you decide if buying a quick possession Home with Pacesetter is right for your family.

The Pros of Quick Possession Homes
1. Save Time!
The number one reason to buy a quick possession home is that you can move in quickly. Quick possession homes are either already completed or close to completion, which is great when you need to move in fast. This means you don't have to deliberate over all the finer details such as colour schemes and potential upgrades that would have to be considered with custom built homes.
Time is a major factor for many homebuyers, especially for those who are relocating or need a new home quickly.
2. Finishes and Features

Another great benefit is that many of the upgrades in current quick possession homes are based on current trending options and colour schemes. You can be sure that the home will be functional and look great.
Since a quick possession home is already under construction, and in many cases almost complete, you can see the home in real life. This gives you a great advantage when it comes to planning; will that couch fit on that wall in the great room?
3. Costs

Typically, a quick possession home will be less expensive than a custom home. With all the selections having already been made, there will be no extra cost for upgrades. Extra items that may not have been thought of will not be an issue with a quick possession home. All costs are already known.
Coming in knowing your budget and timeline will help you to easily find a home that fits your needs.
4. Quality

When it comes to a quick possession home, you can expect the same standard and quality that you would have with a newly built home. In addition, you also get the same home builder warranty with your new home.
Quick possession homes let you move in faster saving you time and money. You can be confident knowing all the features are current and follow the latest trends in the housing market.
Not being able to make selections should not be viewed as a negative feature of a quick possession home. With having a completed home, you can take your time deciding on what future upgrades you would like to make. money you saved choosing a quick possession home can be put towards those upgrades.
Depending on the stage of construction, there may be some items you will be able to select. Talk with your area manager to find out if this is an option.
The Cons of Quick Possession Homes
1. Details

If you want to make specific customization requests based on your personal preferences, then a quick possession home may not be for you. If you have lots of time before you need to move in and a larger budget, then a quick possession home might not be your best choice (maybe consider our other models).
2. The Down Payment

Although quick possession Homes generally have a lower cost, purchasing one does require that you have your down payment ready. This can be a downside if you need extra time to come up with your down payment.
The decision between a quick possession home or a custom-built home comes down to what your needs are. Whether you're looking for a quick move in date with minimal decisions or you'd like to choose your lot and personalize your new home, either way, Pacesetter can help you.