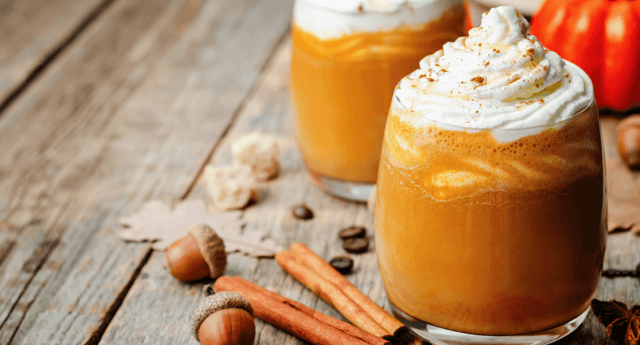 Fall really is a great season. It's not too hot or cold (well, usually) and delicious smells seem to linger everywhere - with pumpkin presenting itself as the best scent of all! It's true when it comes to this time of year, we simply can't get enough of this versatile gourd!
That being said, we've compiled three of our favourite recipes—each a little more creative than your basic pumpkin pie—to really capture the autumn spirit and pledge our love for all things pumpkin!
Spicy Pumpkin Spice Latte

Why spend the money at Starbucks when you can make this fall-favourite bevvy at home?! In just a few minutes you can kick back with your very own homemade pumpkin spice latte without even having to change out of your pyjamas!
Ingredients:
1 cup unsweetened vanilla-flavoured almond milk

1/2 cup pumpkin puree

1 tablespoon vanilla extract

1 tablespoon white sugar, to taste

1 1/2 teaspoons pumpkin pie spice

freshly ground black pepper to taste

10 fluid ounces hot, strongly brewed coffee

2 tablespoons whipped cream, or more to taste (optional)

1 pinch pumpkin pie spice, or to taste
Directions:
Whisk the almond milk, pumpkin puree, vanilla extract, sugar, pumpkin pie spice, and pepper together in a saucepan over medium-high heat. Stir the mixture constantly until it almost reaches a boil then remove from heat. To get that classic latte froth, keep whisking for an additional minute afterwards. Divide the mixture into two mugs and add whipped cream to taste! Mmm.
Pumpkin Turkey Chili
Hearty and healthy, this pumpkin turkey chili recipe is sure to add warmth to your dinner table and your taste buds!
Ingredients:
1 pound ground turkey

1 tablespoon vegetable oil

1 cup chopped onion

1/2 cup chopped green bell pepper

1/2 cup chopped yellow bell pepper

1 clove garlic, minced

1 (14.5 ounce) can diced tomatoes

1 1/2 tablespoons chili powder

2 cups pumpkin puree

1/2 cup shredded Cheddar cheese

1/2 cup sour cream

1 dash salt

1/2 teaspoon pepper
Directions:
Heat vegetable oil in a deep skillet over medium heat. Add onion, green and yellow bell pepper and garlic, saute until tender. Add turkey, and cook until brown. Drain, and mix in tomatoes and pumpkin. Season with chili powder, pepper, and salt. Reduce heat to low, cover, and simmer for 15 minutes. Top with cheddar cheese and sour cream and serve.
Pumpkin Crunch Cake
Move over pumpkin pie, this delectable dessert goes beyond the traditional! (Not to mention, it's easier!)
Ingredients:
1 (15 ounce) can pumpkin puree

1 cup margarine or butter, melted

1 (18.25 ounce) package yellow cake mix

1 (12 fluid ounce) can evaporated milk

4 eggs

1 1/2 cups white sugar

2 teaspoons pumpkin pie spice

1 teaspoon salt

1 cup chopped pecans

1 (8 ounce) container frozen whipped topping, thawed



Directions:
Preheat oven to 350 degrees. Lightly grease one 9x13 inch baking pan.
In a large bowl, combine pumpkin, evaporated milk, eggs, sugar, pumpkin pie spice, and salt. Mix well, and spread into the prepared pan.
Sprinkle cake mix over the top of the pumpkin mixture, and pat down. Then sprinkle pecans evenly over the cake mix and drizzle with melted margarine.
Bake for 60 to 80 minutes, or until done. Top with whipped topping when ready to serve!
When it comes to cooking with pumpkin the possibilities are endless! So when you hit the store to pick out this year's jack-o-lantern, be sure to grab a little extra for your dinner table!
*All recipes are attributed to allrecipes.com
Originally posted on Oct 28, 2014, updated Oct 2, 2018.