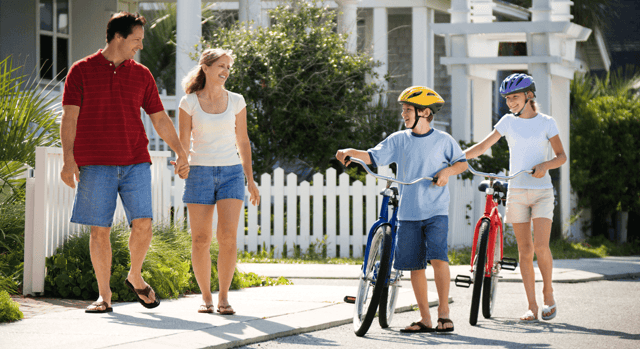 When you think back to your very first childhood home, you may not remember much about the interior. More likely, you'll remember the hours spent playing outside at the park down the road, or how awesome it was that you and your group of neighbourhood friends all attended the same nearby school. This was a time where neighbours greeted one another with a singsong "hello!" – something you may now think only happens in musicals.
Inspired by this, however, developers and builders have come together to create a community that reintegrates those traditional values into modern living. Painted with traditional architecture amidst safe streets and green space, Henley Heights at Secord can be summed up as an "attainable, classic, and charming" community. Built on these values, Henley Heights is an ideal place to raise a family for many reasons; take a walk through this quaint community, and you're sure to agree.
A Lasting Look
Henley Heights takes the title of "community" to heart, working hard to ensure unified quality across all homes. With the specific architectural guidelines established, a high standard for home styles and landscaping is maintained. The integrity of design is visible on the Prairie, Craftsman, Classic Traditional, and Modern Heritage styled homes that create a tasteful ambiance and retain value for years to come.
This allows for an integrated neighbourhood feel, and with options ranging from semi-detached to laned and front garage homes, you can be sure to find one to suit your individual needs in Henley Heights.
Pay a visit to our Maddy II show home at 9808 - 224 Street NW; the interior may have you easily imagining your life in Henley Heights, but there will be even more to discover outside your home.
An Ideal Location
Not only are the homes built in Henley Heights designed for functional living, the community is conveniently located to satisfy both your short and long-term needs. Henley Heights is positioned in the desirable west end of Edmonton, where you'll have quick access to some of the city's main arteries – Stony Plain Road, Anthony Henday Drive, and Whitemud Drive. Whether it's a short commute to work, a keenness for fine dining, shopping, or entertainment, living in Henley Heights ensures you'll stay connected with plenty of options close by.
Many, Many Amenities
Quick access (we're talking minutes!) via any of those convenient routes can bring you to necessities like schools or medical facilities such as Misericordia Community Hospital, as well as popular commercial centres, such as West Edmonton Mall, Mayfield Common, and Costco. The community is also well-serviced by public transit for those who may need it.
Less time commuting means more time spent with loved ones, and you can easily visit nearby swimming pools or recreational facilities such as the Callingwood Recreation Centre to do so! With all these amenities nearby, one could be satisfied; however, Henley Heights goes above and beyond to offer residents great amenities quite literally right outside their doors.
If you have children, one of the greatest appeals of Henley Heights may be the K-9 public school that will soon open (expected fall 2017) within Stage 2 of Henley Heights. The construction of this school came as a result of a boundary placed on a nearby school. This new school in the community, located on Secord Boulevard, will be able to cater to 900 students. Additionally, it will give residents of Henley Heights the ability to walk their children to school – just another one of the ways this community is committed to time-honoured values.
All in all, Henley Heights is more than just houses lining streets. It is a place where neighbours become good friends, kids can bike to and from school, and date nights can be had just around the corner. More than your average community, Henley Heights is a place to call home.