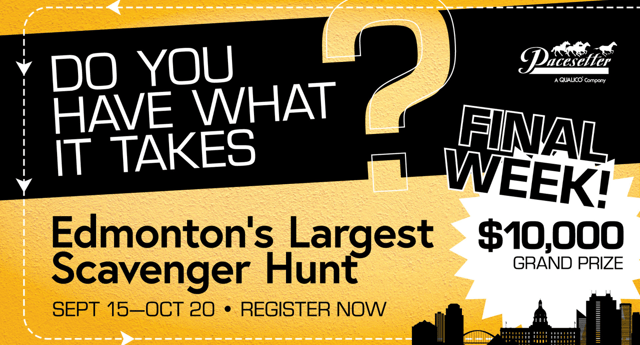 It's hard to believe but there is only one week left to complete your Scavenger Hunt legs! Remember, you can complete them at any time, but you only have until 4:45pm on October 20th to get your entries in at the final locations.
If you haven't yet started, or you'd like to do another leg for another chance to win the $10,000 Grand Prize, be sure to visit any of the starting locations below to pick up your Starter Kit and follow the clues.

Starting Locations:
North Leg: 175 Rapperswill Drive NW
Southeast Leg: 2808 16 Street NW
Southwest Leg: 6710 Elston Lane NW
West Leg: 224 Hawks Ridge Blvd NW
Stony Plain/Spruce Grove Leg: 1300 South Creek Link, Stony Plain
For full event details and to register to play, visit https://info.yourpacesetter.com/pacesetter-homes-4th-annual-scavenger-hunt.
Final Draw for the Grand Prize:
We will be validating all entries to ensure their eligibility. On or about November 5, 2018 we will draw one ballot from all eligible entries received before the deadline. We will announce this winner no later than 5:00pm on November 9, 2018. Please watch our Facebook page at https://www.facebook.com/YourPacesetter for the winner announcement.
Don't forget about the Bonus Locations:
Visit any of the Bonus Locations to enter your ballot for a Weekly Prize valued at $500. These prizes will be announced in the coming weeks as well.
Bonus locations:
Jensen Lakes: 4 Juneau Way, St. Albert
Southpointe: 151 Allard Way, Fort Saskatchewan
Summerwood: 18 Sumac Lane, Sherwood Park
Meadowview: 71 McKenzie Court, Leduc
Questions? Feel free to email us at scavengerhunt@yourpacesetter.com
Good luck and have fun!