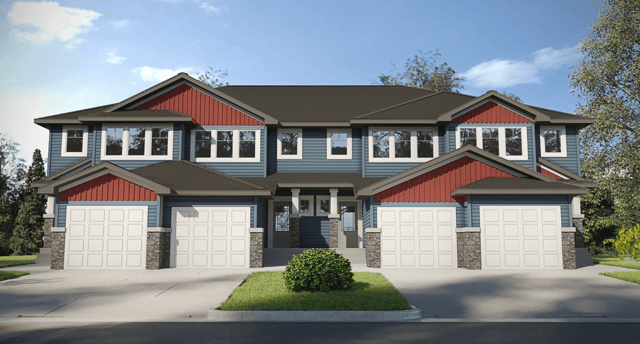 A detached home layout in the comfort of a townhome. Our newest model, the Churchill, masterfully combines the most desirable features of a single-family home into a reasonable 1,403 square foot townhome.
Let's just say, if Goldilocks was on the hunt for a new home, the Churchill would be her "just right" choice.
Read on to see if the same could be said for you and your family.
The Churchill offers a unique look for a townhome. From the outside, the interweaving roof peaks, gables, and overhangs could give off the illusion of one large estate home. In reality, there are several townhome units, each with their own covered front porch, accentuated by stone-clad pillars.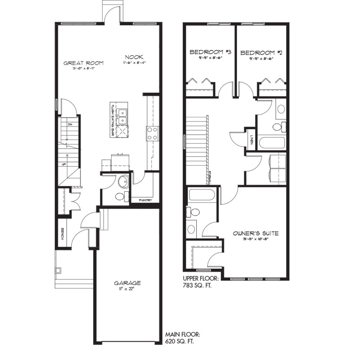 The first big benefit of the Churchill can also be seen from the outside. Although it's a townhome, each unit has its own front-attached garage. You can enter the home from here, or through the front door – either way, you end up in the foyer which includes a built-in bench, a storage closet, and a powder room just a few steps away.
The kitchen is next, and it's highlighted by a spacious corner pantry and an island with a flush eating bar in the centre. From here, the space unfolds into the dining nook and great room. This entire main floor offers an open living area, where families can freely converse while enjoying different activities.
On the upper level, each family member can have a private space of their own to settle into at the end of each day. The owner's suite is located towards the front of the home, while the two standard bedrooms sit side by side at the other end of this floor. This gives parents more peace and quiet whenever needed.
The space separating these rooms is filled with the main bathroom, a linen closet, as well as a laundry room. The convenient placement of the laundry on this floor means kids will (hopefully) have no excuse for not putting away their own clothes - bonus!
Also, a "bonus" is the owner's suite's attached three-piece ensuite and a walk-in closet. Both morning and evening routines are made easier with this layout.
Overall, the Churchill is a home in which any family could live happily and comfortably. With everything you could need in just the right amount of space, your home can be a place of purpose, quality, and connection.
Our Area Managers are eager to share more about the Churchill with you. Contact us if you're interested in this brand new model!