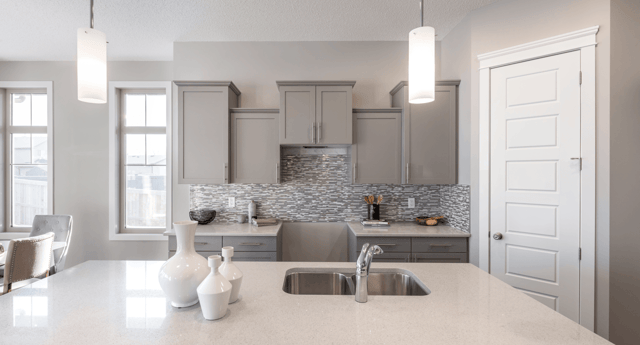 Of course, building your very own home is exciting - but it comes with a lot of questions and decisions too. From the layout and floor plan to the smallest features and finishes, you want to make sure you're making all the right choices for you and your family.
So, how do you get the biggest bang for your buck? New home upgrades are your way to personalize your dream home. Choosing the long-term value upgrades for your home now can make it easier on your chequebook, as well as easier on your nerves during future renovations. Which upgrades are worth your hard-earned dollars?
Check out the list we've compiled, including some features available through our award-winning designQ Centre, to help you invest now where you'll see the sustained returns in years to come.
Flooring
Hardwood or vinyl plank? Carpeting or laminate? It's a tough question. When it comes to flooring ideas, vinyl plank and laminate have definitely increased in quality in recent years and are almost indistinguishable from hardwood - not to mention, they are extremely durable and low-maintenance!
However, there are traditionalists who still prefer natural hardwood. Consider your family's budget as well as wear-and-tear when deciding which flooring suits you best. Hardwood often stands the test of time with value but laminate or vinyl plank may be a better option for kids and pets.
Counter Tops
Always be wary of current trends when choosing your countertops. Something too trendy can make your new home look dated in just a few years. Some people prefer granite as it is a natural product whereas quartz is man-made but more controlled in its design and colour. Find something that suits your overall colour scheme and goes the extra mile in the kitchen as this is one busiest places in your home and strongly contributes to resale.

Cabinets
Consider extending or staggering your kitchen cabinets. Why? Extended cabinets provide more space and less to dust and clean if they happen to go to the top, whereas staggered creates a dynamic look and feel to your overall kitchen that is sure to get noticed. You can also customize your look with glass panelled cabinet doors or add a little more practicality and room for storage with pot and pan drawers.
Bathroom Tiles
Kitchen backsplashes often spring to mind when it comes to making design choices for your kitchen. But have you thought about your bathrooms? Tile surrounds on the vanity, tub and shower add more than just a durable, waterproof surface - they look great too! Having tile surrounds adds an elegance to the room as well as a great long-term investment for your home.
The Garage
We all have more stuff to store than we think - especially busy families. For this reason, you'll want to consider a few design options for your garage. Extra square footage is a great place to start - when it comes to storing Christmas decorations or patio furniture, an additional foot or two goes a long way! For the handyman in the house, this extra space may keep some projects out in the garage instead of inside. If you have an attached garage, you could consider an extra door or windows for extra light. This could ease bringing in groceries through a dark garage, especially in the early winter evenings.
Ceiling Height
Take your ceiling from standard to soaring and you'll feel the difference. We recommend putting in 9ft ceilings for both the main floor and in the basement. Plus the ability to alter anything structurally after your house is built is practically impossible!
Windows
Windows are essential for warming up a home and providing plenty of natural light. Sometimes show homes are a good way to see some of the extra windows your home could have. If you're on a corner lot you'll probably have even more! Ask your sales representative for their opinion; they'll know what others have done too.
Basement
Finishing your basement at the time of your build is sure to add a lot of value both now and later. Not only are they great for multigenerational families or for those who love to entertain, they're great for teens or older children who just want a little more space of their own. Not to mention, an additional bathroom, rec room and bedroom are sure to appeal to buyers when and if you do decide to sell later on.
Electrical Outlets
Something you may not have thought about is extra electrical outlets and lighting options. Be sure to check with your builder to find out if these are included or considered extra.
Two places to consider extra outlets for your owner's suite: on either side of the bed, and "his and hers" outlets with ample counter space in the ensuite.

Add a Christmas light outlet in the eves of your home, while also ensuring a light switch is installed inside.

Think about extra outlets in the pantry for small appliances if you don't like the clutter of appliances on your counters. A charging station may also be beneficial in the kitchen for phones and tablets.

Do you have a large family or do you like to keep certain foods or drinks separate? Consider an extra fridge or freezer outlet in the utility room or the garage.

Under-cabinet lighting is much easier to have installed during the build, as trim may be needed for the bottom of your cabinets to conceal the lighting. Also, ensure multiple switches (e.g. high, medium, low) to control the lighting are installed.

Thinking about possibly getting a hot tub in the future? Have the outlet installed during the build as a 220W outlet will be needed to run your new tub.


Extra Gas and Water Lines
Does your family enjoy a good BBQ? Or are you considering a gas cooktop? Have those gas lines installed before your new home is built. Not only it is easier to run the lines, it will also save you time and sweat equity.
We all enjoy fresh, filtered water and ice from our new fridge; be sure to have those water lines installed before the build is finished to cut costs to have this feature for your family.
Plumbing and electrical fixtures can always be upgraded at your convenience after your dream home is built.
Are you still undecided about the best upgrades for your new home? Schedule a one-on-one consultation with one of Pacesetters' qualified interior designers in our designQ Centre today or visit any one of our show homes and speak to an Area Manager.
Remember, a good rule of thumb when considering upgrades during your new home build: if it's in the walls or the floors, get it done during the build!