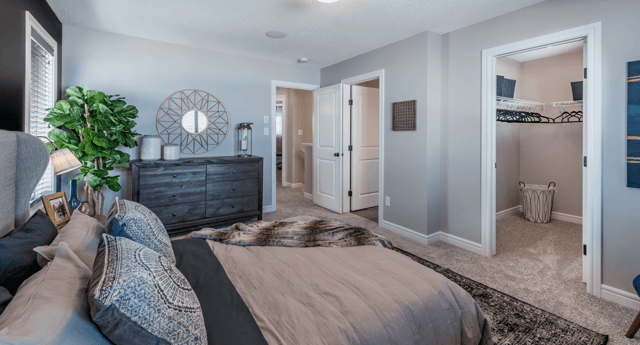 What kind of life have you been dreaming about? If you've been longing for a quieter lifestyle with the type of convenience that allows you to focus on the things you really want in life, it's time to consider the new community of McConachie Crossing. Set in the northeast part of Edmonton, you may just find that this up-and-coming community has all of the things you've been looking for.
Welcome to McConachie Crossing
McConachie Crossing lies just within the Anthony Henday Drive ring road. This easy access allows you to quickly reach any area of the city. That being said, the community is far enough away that you'll feel like you're getting away from it all, but still close enough you'll easily be able to commute to work downtown or to a special event. It would also be a good location for someone who works on the Canadian Forces base or in Fort Saskatchewan. You'll also be near public transportation centres if that's the way you prefer to commute.

Recreational Opportunities
If you're looking for ways to stay active, you're going to like what you see in McConachie Crossing. The community is designed with walking trails that allow you to easily fit in your daily exercise, whether that's a quiet walk alone or an evening bike ride with the family. A nearby storm pond is a perfect backdrop for this.
You'll also find there are other opportunities just a short drive away, including several small parks, the Schonsee Wetland, and the District Parkland Nature Preserve. Prefer to burn some calories inside? The Clareview Rec Centre has everything you're looking for, including a pool, fitness classes, and an indoor playground for the kids. After you finish your workout, you can pick up a book at the connected library.
Accessible Shopping
Being able to get the things you need quickly and easily is incredibly important. You don't have to worry about this if you live in McConachie Crossing. The Manning Town Centre, Londonderry Mall, North Town Centre and Northgate Centre are all nearby. You can do the grocery shopping, then pick up a few things for the home or your closet.

Plenty of Schools
You want your children to go to a school where they'll love to learn. There are a number of schools in Northeast Edmonton, including public, private, Catholic and more. As a resident of McConachie Crossing, you'll be able to find the school that best fits your child's needs. Best of all, your children are sure to find a few school friends right in the neighbourhood. Christ the King K-9 Catholic School is nestled within McConachie!
Beautiful Home Styles
McConachie Crossing features a number of different home styles, including townhomes, and laned homes. The variety of home styles means that the community attracts a variety of people at different stages of their lives. This is great for those who want to live in a more diverse area. You can easily find a home that fits your needs and your budget.
If you don't have the time to wait for your new home to be built, take a look at the quick possession homes available. McConachie Crossing has a number of these move-in ready homes.
More to Come
There are even more features coming to McConachie Crossing! A District Recreation Campus will be home to athletic facilities, parks, and more. You will love the additional convenience that a place like this provides your family.
McConachie Crossing has a lot to offer families like yours, whether you're looking for affordable homes, a convenient location, or a quiet neighbourhood to raise your kids. Come out to see what this neighbourhood looks like, and talk to the Area Manager about all of the plans for the future. Tour the available showhomes to see what different styles of homes look like. When you see the quality provided by Pacesetter Homes, we think that the choice will be easy.