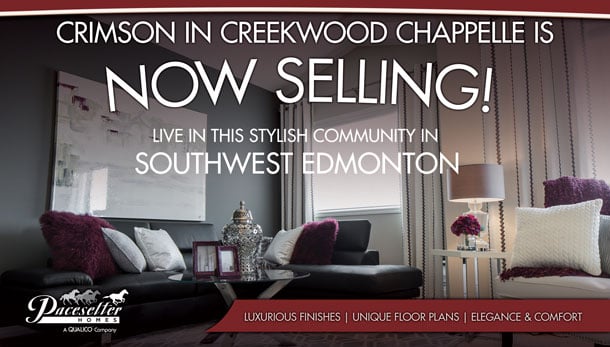 ​​We've been anticipating the unveiling of new locations Pacesetter Homes would be building in 2015. We already told you about Timberidgeand Desrochers Villages; we are more than excited that one of them will be the community of Crimson in Creekwood Chappelle. If you haven't heard of Creekwood, it's probably because keeping it a secret is one of its charms. Located on the southwest part of the city near Whitemud Creek, this new community offers an escape from the busy pace of life many of us find ourselves in. It's a place where families can enjoy peaceful surroundings of natural landscapes while being near all the amenities you need.
Imagine what it would be like to live in a house that was steps away from lush wetlands, trees and expansive green spaces. Now, imagine having the opportunity to choose between 7 different models of homes that fit your needs and dreams. That's what Crimson is; a reality that feels like a dream. Whether your dream is for a townhome, semi-estate home, duplex or charming laned home, Pacesetter Homes is ready to work with you towards the lifestyle you imagine.
The extensive walkways that meander throughout the entire community promotes meaningful connection between neigbhours, families and friends. The tree-lined streets that are seen throughout the neigbhourhood harken to a time when life was simpler. The fresh ponds meant to be enjoyed by resisdents add to an already idyllic setting. The convenience of nearby schools, shopping centres, churches, public transportation, and city facilities ensure that modern living isn't sacrificed. In fact, many of these places can be reached with little traffic lights getting in the way! The amenities in this area are plentiful. Already, a public school for grades K-9 has been promised with a goal date of September 2017.
So, if you're looking for a community for your family to grow in, or in search for a place that nurtures serenity, leisure, and connection, Crimson just might be what you're looking for. Please don't hesitate in speaking with any of our area managers about this community or any questions you might have.
You might want to act quick before everyone else discovers this well-kept secret!