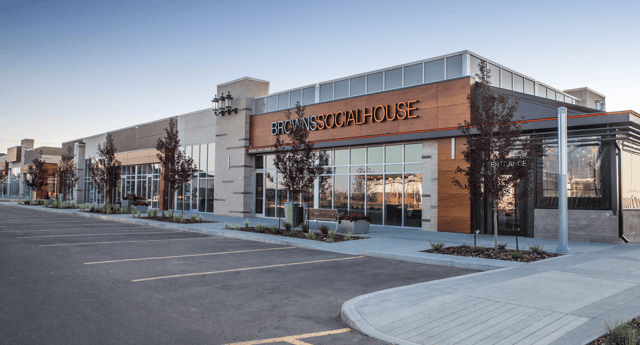 When you're looking for a place to build your new home , you know the right community includes far more than a beautiful view, walking trails, and a playground for the kids. You also need a neighbourhood that's conveniently located near stores and services that will make your life easier.
Fortunately, the expansion we're seeing in Edmonton isn't restricted to residential neighbourhoods. There are also a number of commercial areas cropping up near Edmonton's newest communities. Some of these spaces are already bustling, while others are just getting started.
By the time you're able to move into your new home, though, you could be looking forward to shopping in one of these commercial centres.
Edgemont
Developers are building the Edgemont commercial area in Southwest Edmonton near 199 Street and Lessard Road. This is most convenient to the Timberidge and Uplands at Riverview communities that Pacesetter builds in.
This may be the spot where you'll get your grocery shopping done, as the major retailer in Edgemont will be a Sobey's. There'll be ample parking around the grocery store, and you can get some gas at the Sobey's Gas Bar before you head home. At the other end of the shopping centre, you'll find a few other retailers. Several businesses are currently signing up for those prime spots, but you'll have to wait a few more months until receiving confirmation as to which stores they'll be.
Hampton Terrace
The Hampton Terrace shopping area is well underway and is just across the street from Edgemont. Here, you'll find a nice mix of popular stores and services - especially if you live in any of Pacesetter's southwest communities.
For instance, you'll be able to drop your kids off at the daycare, then head over to Tim Horton's to grab coffee and breakfast on your way to work. If you'd rather have a healthier and more leisurely breakfast, you might stop in at the Rise & Root.
In Hampton Terrace, you'll also find some essential service providers, such as a dentist, a barber, and an optometrist.
Riverview
Those who live in the Uplands at Riverview will even be able to walk to the Riverview Town Centre, which will offer a variety of yet-to-be-determined stores. The Uplands neighbourhood itself is right for the discerning buyer who's interested in a fine home with excellent views.
That feeling will extend to the Town Centre area, which will also have an upscale feel. Some of the shop-lined streets will be for foot traffic only, and you'll find patio dining areas where you can take a nice break.
Cy Becker
In the up-and-coming Northeast Edmonton area, residents of the Cy Becker neighbourhood will enjoy the Cy Becker shopping centre currently being developed in their community. It'll be an easy walk or bike ride from most of the homes in this area, but there's also an ample parking lot if you prefer to drive or if you just want to stop by on your way home from work.
While the current plan only has a liquor store and a Rogers (mobility) confirmed so far, you can see the design plan is likely to attract a few larger stores, such as pharmacies or clothing stores, along with a few smaller businesses. For instance, a dentist or tutoring centre might find the area attractive. We'll have to wait and see which businesses decide to sign the lease!
Ambleside
Close to Pacesetter's Southwest Edmonton communities of Glenridding, Glenridding Heights, Glenridding Ravine and Langdale, the Ambleside shopping centre is both established and growing. The Ambleside East section includes a pizza place, a chicken restaurant, a dentist, and a liquor store. Ambleside West will be even larger, with plans for a 40,000 square foot store along with several smaller buildings that could go to retail stores, restaurants, or service businesses. We're excited to see which types of businesses sign up for a spot in this prime location.
Easton
We wouldn't want to leave out the City of Spruce Grove, where Pacesetter builds in the Copperhaven, Tonewood and McLaughlin communities. This bustling city with the small-town feel has certainly been seeing its fair share of expansion, and this includes commercial areas as well. In the near future, developers will start working on the Easton shopping centre. Right off of Route 16A, the centre should include a variety of stores, and it will integrate nicely with a residential area. The families who live here will be able to easily walk to the stores.
Of course, these are just some of the latest commercial and retail developments to crop up throughout Edmonton. All of Pacesetter's communities are close to a variety of shopping centres, making it easy for you to get your groceries, get gas, and pick up all of the little things you may need. They're also close to larger shopping malls for those times when you need something special.
You already know Edmonton is a great city to live in, but things just keep getting better. When you choose Pacesetter as your builder, you're able to get the perfect blend of quality and convenience. Stop by any of our communities for a tour today.