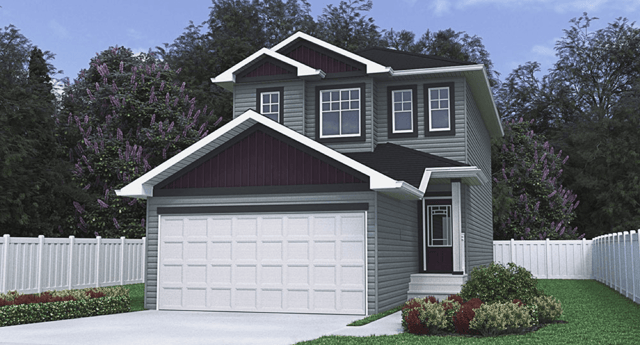 You want an open concept main floor, your spouse wants a front attached garage, and the kids, well, they just want their own rooms. Maybe you haven't had any luck finding a home that has it all, or if you have, they lack the aesthetics and quality you're looking for.
You're left wondering, "Will any home suit our needs and wants?"
Enter the Belmont home design. Not only does this home model have all the functional features a modern family could need in 1,565 square feet, it presents itself with stylish, contemporary accents and fine finishes.
It's not too good to be true – take a look at what the Belmont has to offer.
Stay Connected on The First Floor
When you come home to the Belmont, whether you enter through the front door or the garage, you'll end up in the same entrance area that offers the advantage of a storage closet ahead and a powder room to one side.
Continuing further into the home – yes, just like you wanted! – it's an open concept living area, comprised of the kitchen, dining nook, and great room. Make use of the corner pantry and centre island in the kitchen to prepare meals, while maintaining sight of your kids playing in the great room. Gather as a family to enjoy dinner in the nook, without even having to leave the conversation to check on dessert in the oven.
Enjoy Your Solitude on the Second Floor
As you step up to the second level, the convenience steps up, too (if you can believe it!). At one end of this level, you'll find two well-sized bedrooms, giving each of your kids a separate area to truly make their own space.
Of course, you're offered the same privacy and personalization in your owner's suite, which is located on the other side of this level. The appreciated layout is made more useful by dedicating the space between bedrooms to a main bathroom as well as a laundry closet. Want your kids to start folding their own laundry? It may take less coaxing if they can grab the load from the dryer right outside their bedroom door.
And we didn't forget to offer you a sneak peek of what your owner's suite could look like! The Belmont offers a wide, open master bedroom that you enter through gorgeous French doors. Attached is a three-piece ensuite bath and, from there, you'll have access to a walk-in closet. Your full morning routine can be done in this multipurpose area, keeping your bedroom area neat, and exclusively for rest and relaxation.
Now that you've heard a little about the Belmont design and how it can work for your family, you may be daydreaming about the details you can add to make it really come to life. Contact us today to learn more about this model and the design options that can make the Belmont uniquely yours.