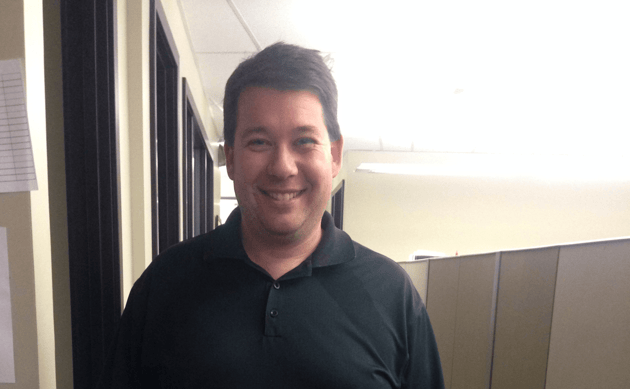 Last month we introduced you to a member of our Sales Administrative team. Now we'd like to switch gears and hop on over to a member of our Estimating team! Drumroll please…. INTRODUCING!
Garth Gorda – Estimating Manager
What is your role at Pacesetter Homes Ltd?
I am the Estimating Manager for Pacesetter Homes Ltd. I not only manage the Estimating team, but also the Estimating, Sales, and Scheduling programs overall. You're probably wondering what an Estimator is! Basically, our job is to ensure that projects are completed both on budget and including everything that the clients have asked for. We work with multiple departments around the office as well as the trades to calculate the costs of different products from the design stages right through to completion.
My typical day is never the same; I get pulled in all different directions! On any given day I could be dealing with trade invoices that are cost over runs, pricing out new houses or changes to current builds, negotiating pricing with the trades, or helping out a Site Superintendent with an issue that may have arisen. I also do the material takeoffs for all new models, help to create new products for our Sales Team, and create budgets for new homes. It's safe to say that there is never a dull moment.
What lead you to your current position?
I grew up building things! Decks, fences, pole barns, fence line cattle feeders- I even helped out with home renovations. I just have a passion for building and working with my hands. After high school I made the decision to enroll in Construction Engineering Technology at NAIT. This is where I learned all about the technical aspect of building commercial and residential buildings. During my studies I also started selling building materials and assisting people during the walkthroughs of their renovation projects- what an experience!
Next, I moved to Golden B.C. where I began building houses, townhomes, condos, restaurants, hotels, roads, underground services, and retail spaces. You name it - I built it. These were some of the toughest projects I have ever taken a part of. I was the Estimator, the Site Superintendent, the Project Manager, and the Job Foreman all at once.
When I came back to Edmonton I worked as a Site Superintendent building houses. Luckily, I had a friend that worked for Pacesetter Homes Ltd. When she told me they were looking for an Estimator I jumped at the opportunity and haven't looked back since. I started as a Junior Estimator and have worked my way up the chain over the past six years.
What is your favourite part about working for the company?
I think one of my favourite things about working for the company is the people I get to share my days with. We all have a similar passion for building a great home. Our team is full of innovators; great people with great ideas. Our company is like a big family where everyone has a voice. We all work together for a common goal and that is to give the homeowner a house that we are proud of, that they will be proud to own.
If you could max out your credit card at any store, what store would you choose?
I would probably have to say Amazon. They have everything… ever! If I'm not shopping online my pick would have to be Best Buy. I love movies, video games, and electronics.
If you could have an endless supply of any food, what would you get?
Hamburgers. I feel like Jughead from an Archie comic but I do love a good burger. I could eat them every day and not get sick of them! Well, at least not for a while.
If you were a cartoon, which one would you be?
Now THAT is a tough question. I would love to be Bugs Bunny. He is so calm yet manages to cause such chaos. Am I aging myself? If you don't know who that is, ask your parents!
If you could go anywhere in the world, where would you go?
I have already been able to visit a ton of different places throughout western Europe, the middle east, Australia, and parts of Canada and the United States. There are still two places I would love to go; I want to one day go on an African Safari. I would also love to see Iceland.
Well, that's all for today! Be sure to keep your eyes out for our next instalment of "Meet the Team".