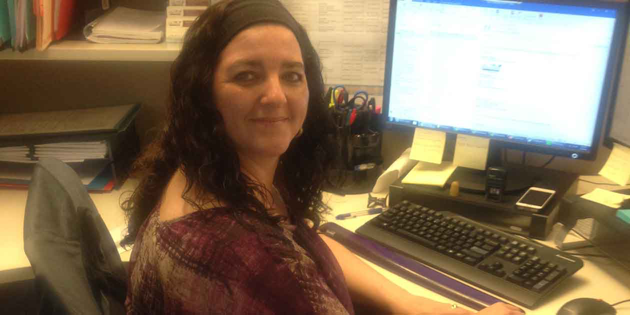 You may not know exactly what goes on here at the office after you've signed on the dotted line. The reality is, we have a great big team that works together throughout many different stages to get you into your dream home. We want you to meet some of the friendly faces we see every day! Today we'll get to know….
Caryn Baker – Sales Administrative Assistant
What is your role at Pacesetter Homes Ltd?
So you've sent in an offer and it's been accepted… now it's my turn!
When a deal is accepted it comes to me for processing. First, I gather all of the necessary documents to have sent off to the bank for mortgage approval. This includes your purchase agreement and any other contract documents you would have signed with your Area Manager. While I wait for the go ahead, I begin to process the deal by adding all of the details into our computer system- deposit information, subject to financing deadlines etc. I also put together copies of all of this for you to keep for your records. The file will stay with me until I receive the mortgage approval from your bank. Once this comes in it's off to the races. Conditions can be removed, final details can be inputted into the system, and the file can move to the next step in its journey… on someone else's desk!
But that's not all. When I'm not processing deals, you might find me processing extensions, cancellations, payment restructures or handling deposits. I also keep track of developer promotions, internal promotions, and expired deals. There's more… showhome supplies, coffee orders, and expenses all flow through me! And those fancy homeowner binders you receive when you move in- yep, I made them.
What lead you to your current position?
I moved to Canada from the UK in June of 2010. When I arrived, I began working for a smaller home builder. I found that I loved the role and seeing the process of building homes from start to finish. When I saw a job advertisement for Pacesetter Homes Ltd. I jumped at the chance to apply! I had heard so many good things about the company and I knew it would be a great place to work. I truly enjoy the work that I do and I feel as though I am an important part of the team. We are like one big family!
What is your favourite part about being on the team?
I would have to say the people I work with. Whether it be other office staff, the sales team, or trades people, everyone is great and we have an awesome team!
The best part of waking up is ________?
Seeing blue sky and sunshine. Whether it is summer or winter (although I prefer summer!) I just love it. After all, I'm from the UK where it is always grey sky and rain- I do NOT miss that.
If you could meet any celebrity, past or present, who would it be?
Easy! It would definitely have to be P!nk. I just love her music.
If you could choose to stay a certain age forever, what would it be?
I would have to say 18. I'm not sure why, but when I think back I always think of myself being 18!
What is something you did as a kid that always got you in trouble?
I never got into trouble when I was a kid!! Only joking. I always got in trouble for being loud and talking too much. My Mom always told me that from the moment I started to talk I never stopped!
There you have it. Our very own Caryn Baker *applause*. Stay tuned to meet more of our team!