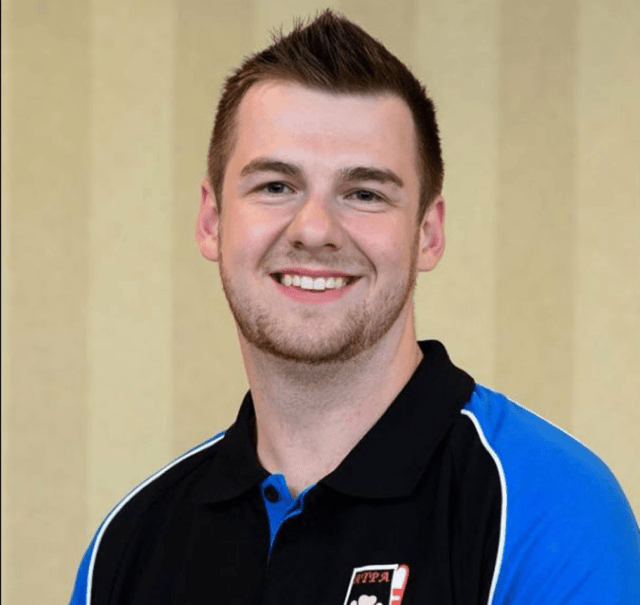 Everyone, meet Sean. He's our in-house hockey expert, our competitive bowling champion (that's right, 3 perfect games and 6 trips to the Canadian National Championships), and our resident news anchor...?
Oh yeah, he's also a beloved part of our Drafting team! Here's what he had to say when we caught up with him:
1. What is your role at Pacesetter Homes?
I am an Architectural Technologist on the Pacesetter Homes Drafting Team. I help put all of our ideas and designs to paper/model space. I play a major role in designing new plans and elevations, as well as maintaining our standard plans and current models.
Furthermore, there are many different tasks that myself and the drafting team have to manage to process a file before it heads out to the field. These steps include: making design changes to the plans as required or requested, ensuring the design meets the subdivisions architectural guidelines, complying with engineering and code, applying for building permits, and much more. There is a lot that goes into a house design and set of construction drawings. It is a complex and technical job! To make it easy, I sometimes tell my friends and family I essentially play a more complex version of Sims or Sim City every day. LOL!
2. What lead you to your current position?
It actually all kind of started in my Grandma's basement. When I was a kid, I had a wild imagination; I used to love building and designing things out of cardboard boxes. I used my Grandmother's unfinished basement as a blank slate to make my designs and ideas come to life. I would build floor plans of different types of buildings using cardboard boxes. I built: schools, houses, concert halls, restaurants, and hockey rinks! More specifically, I would actually build a mini Rexall Place. It would even include the fine details such as the jumbotron, oil derrick, and the championship banners/flags that hung high above the ice. I would then pretend to live out my childhood dream to one day be an NHL hockey player playing for the Edmonton Oilers in it.
Well, obviously that dream did not work out...so I stuck with another thing I was passionate about at a young age: design! As I grew older, I began taking courses in design studies and eventually attended SAIT in Calgary to get my Architectural Technologies Diploma. Once I earned my Diploma I landed a position with a home builder in Calgary that I worked with for two years, gaining experience along the way. I eventually transferred home to Edmonton and I am glad I did! I am a true believer that everything happens for a reason; not only did the move home to Edmonton bring me home to many friends and family, it eventually lead me to Pacesetter Homes and to a team that I love working alongside. I love waking up every day and doing what I love. It truly doesn't feel like a job to me.
I guess I have to thank my Grandma for keeping all of her empty cardboard boxes for me to play with.
3. What is your favourite part about being on the team?
It would definitely have to be the people I am lucky to get a chance to work with and share my day with here every day.
Everyone at Pacesetter works hard and supports each other, all while having a great time doing so. Everyone here shares the same passion that first lead me to want to do what I do. We love designing/drafting homes every day because we are passionate about doing our part in building families their dream homes. The office environment and work-life balance here is great and the team feels like one giant family. All passionate about one thing – building quality homes!
4. If you could live in any sitcom, which one would it be?
I would probably choose The Big Bang Theory! It's a pretty funny show. Living alongside Leonard and Sheldon in their apartment would be comedy gold, and besides, who wouldn't want to be a neighbour to Penny!?
5. Who was your hero when you were a child and what did you do to be like them?
Both my Mom and Dad are heroes to me. They worked hard to ensure I had everything I needed growing up. Without each of the roles they played and continue to play in my life, I would not be the young man I am today. I took away many valuable life skills and personal traits from my parents. They taught me how to treat people with respect. They provided me with the work ethic I try to apply to both my personal life and work life every day. They also showed me how to persevere through the tough times and that everything happens for a reason. I can't thank them enough for everything they have done for me, but thank you, Mom and Dad. I love you guys!
6. If there was a holiday in your honour what would it celebrate?
I don't know…I don't really need a holiday to celebrate myself. Maybe one day I will do something that deserves a holiday to honour me, you never know!
But If I could add a new statutory holiday to the calendar year I would have to add the NHL Trade Deadline Day. I think almost every Canadian hockey fan would like to sit back and watch TSN as the deadline deals roll in. No one would have to work or go to school on Trade Deadline Day. It would be a stat holiday celebrating one of Canada's favourite national pastimes – hockey! Who's with me!?