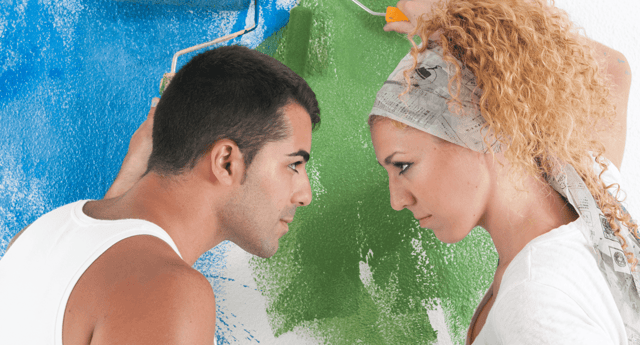 Each time you trip over a dog toy, find a secret pile of dirty socks in the corner, or experience the excruciating pain of stepping on a piece of Lego, you have the same afterthought...
"I wish I had a space just for me!"
If this sounds like you, you may be in need of a man cave or a diva den. Or, you can create one shared space that suits both of you, while still including a few individual touches.
So, it's time to stop wishing and start planning. We've already started for you.
Seating
Whether this space in your home will be mostly for "me time" or for hosting game nights or cocktail parties, quality seating is always a necessity.
For Him:
When it's time to kick back and watch the game, or play some games, a big ol' reclining chair is your best friend. Choose one with a rising foot rest and, of course, cup holders (where else do you put your beer?). You may even want to spring for a reclining massage chair – it'll be a post-gym blessing.
For Her:
A comfy couch is a classic choice, but if you're looking for something a little more funky and modern, you might like a circle side chair. You'll have enough room to curl up with a blanket and a book comfortably, but not quite enough space to let anyone join you – a perfect excuse for some time alone, right?!
Best of Both Worlds:
Two words: Sectional. Sofas. If you're likely to have guests over or even if you just want extra room to sprawl out, sectional sofas are the way to go because there are so many layout options!
Music and Media
Everyone needs a big screen for movie nights, gaming, or Netflix bingeing on "sick days", but think about how you could have an entire entertainment centre that speaks to your style and preferences.
For Him:
If you're a gamer, you undoubtedly need an entertainment unit fit with your gaming system, cloud-powered and set with cinematic gameplay. Consider mounting multiple TV screens for group gameplay and don't forget the surround sound speakers.
For Her:
Built-in shelving around your TV set can house all your favourite flicks. But when you're itching to get up off the couch, make sure you have a wireless audio system set up. This speaker system combined with LED lighting is perfect for impromptu dance parties.
Best of Both Worlds:
As cool as new, high-tech speaker systems can be, nothing quite beats the sound of vinyl records (and you can still hook most players up to speakers.) Plus, the vintage design flair of a record player is simply awesome, especially if you show off a killer record collection next to it.
Beverages
If you're able, add a bar to your special space, no questions asked.
For Him:
We're pretty sure man cave is synonymous with beer cave. A loaded fridge is essential, but you could take it one step further and make a DIY Keg Fridge. If you're more of whiskey kind of guy, make sure your bar is stocked with whiskey stones and maybe a decanter if you're feeling fancy.
For Her:
To start and end your day in a space that's not your busy kitchen, consider including a coffee or tea station in your diva den to unwind in style. And no, we didn't forget that some days will require something stronger than tea. Whether you're a die-hard wine fan or crazy for cocktails, you'll need a place for it. Styling your own bar cart will be tons of fun, only surpassed by actually using it.
Best of Both Worlds

Try adding wood slats to your wet bar to give it a rustic feel. Adjustable LED lighting in an open storage unit will showcase your bar selection – you can even get colour-changing options to match the mood. And make sure you have enough storage for both wine glasses and beer steins!
Games & Hobbies
Your cherished space away from the rest of the home shouldn't be just for relaxation or socializing, it should also include the elements you need for the activities you enjoy! Whatever your preferences, you'll appreciate having a special place to really get into your hobbies.
For Him:
Instead of having to go to a local pub to get a few rounds of pool in, consider having a table in your man cave. Other ideas could be a poker table, dart board, or even a vintage arcade game; these items are fun and will actually bring the authentic pub vibe into your own space.
For Her:
A floor-to-ceiling mirror, a comfy mat, and some low lighting can be easily incorporated into your diva den design to help you channel your inner yogi. If you'd rather get creative with art than with shapes your body can bend into, set up an epic craft space. Whether you paint, sew, embroider, or scrapbook, you'll need a highly organized space that allows you to quickly and easily access all the materials you need.
Best of Both Worlds:
If you're a family of book worms, have a bookcase built into a wall in your shared space. Complete with a couple of oversized chairs or some beanbags, you'll have a cozy little reading nook (or at least a place to catnap).
Accessories & Personal Touches
Finally, you want to tie everything together with accessories and little details that make the space feel very "you". Paint the walls in a colour you love and makes you happy (even if that happens to be neon green); this is one space where you're allowed to be completely selfish.
For Him:
Decorate walls and shelves with things that represent who you are and what you're into. Trophies and other sports memorabilia can be displayed on shelves, pictures of you holding THE biggest fish EVER can be shown off shamelessly, or you might even hang those old band posters from college up – it's YOUR man cave, after all!
For Her:
Try to create a theme in your diva den that reflects your personal style. If you're an outdoor enthusiast, everything can fit that "look" – things like wood furniture, plaid throw blankets, dangling fairy lights, and live plants will come together to give you the sense of being in the great outdoors. No matter what theme suits you, you can really make it your own with personal touches like photos with family and friends. Consider having a display of Polaroid pictures, and keep the camera nearby so you can continually add to it whenever guests are over!
The possibilities for your man cave, diva den, or common grounds are truly endless. Think about your personal style, hobbies, and your idea of comfort to create a space you'll always look forward to spending time in, together or apart.
For more inspiration, here's a great site filled with ideas for a man cave. And for a twist on the diva den, she sheds is a trending idea for a place dedicated to gardening, crafting, or whatever you love, completely away from everything else.
Go ahead – enjoy your home the way you would like to!