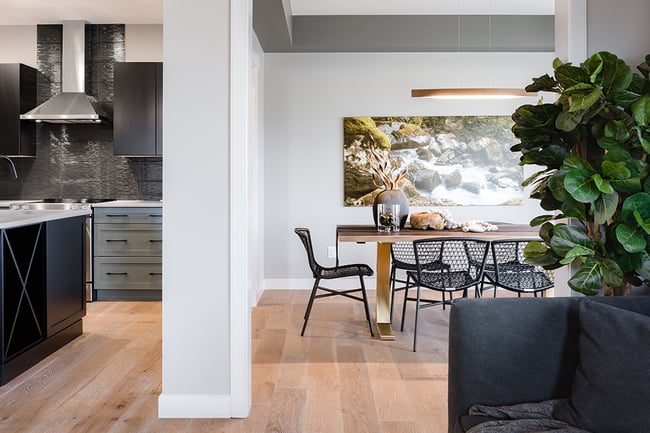 When you start thinking about the interior design in your home, be sure that you don't forget to spend some time thinking about your lighting! The light fixtures in your home play a big role in making a room come together and creating the right feel for your space.
Think carefully about how you will use each room in your home and what types of lighting you may want for each. Then, explore all of these great options!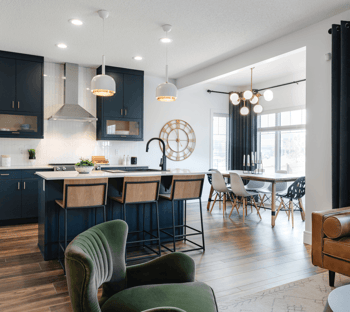 Lighting Basics
It's important to start with a basic understanding of the types of lighting you usually find in a home. Most rooms come with some type of lighting on the ceiling. The flush mount style is one you've probably seen before. It's usually a half-sphere that is directly attached to the ceiling. Pot lights are recessed into the ceiling to offer overhead light without disrupting the line of the ceiling.
While not as common as it used to be, track lighting is sometimes used in kitchens and bathrooms, though some people choose to also place it in a laundry room, office, or craft space. A track mounted to the ceiling features several lights that can be pointed in any direction, or moved along the track to suit your needs. Track lights allow you to control the angle of lighting in your room so that every corner has light.
Of course, there are also more decorative fixtures such as chandeliers and pendant lights. These are valued for their dramatic effect in addition to the light they provide.
Creating Ambiance
Use your lights to create some ambiance in any space. One of the best ways to do this is by choosing under-cabinet lighting in the kitchen. Today's open-concept floor plans often mean that the kitchen is visible throughout the day and night. Leaving the lights on all the time would waste energy, but you don't necessarily want a dark void when you're relaxing in the living room. Under-cabinet lighting is just the right touch.
Lovely Chandeliers
Modern chandeliers aren't all about sparkling crystal. Think of these as any group of lights that hangs from a single spot. Some of these look more like stars or collections of candles. Some even have a drum shade over them to diffuse the light. Chandeliers look nice in the foyer or over a table in the dining room and/or dining nook. The style of light you use has to fit the space - including your table - so be sure to work closely with the professionals to select the one that's right for you.
Dramatic Pendant Lights
Chandeliers tend to be tightly focused on one place. If you have a long table, a chandelier might not fit well. The ends of the table will be left in the dark. Enter pendant lights. These lights hang from the ceiling, but you can have several of them. Many people like to use these over the kitchen island.
You could also include pendant lights in the bedroom on either side of the bed. To do this, you have to know the size of your bed and the exact place you'll put it in the room. Otherwise, the placement of the lights will be off.
Wall Lighting
Some styles of lights attach to the walls rather than the ceiling. This style tends to look great in the hallways for those who want something a bit more eye-catching than pot lights. However, you could also have wall lighting in the bedroom by the bed.
Lighting in the Bathroom
Think about including a variety of lighting in the bathroom. For instance, a bright light around the mirror is nice for putting on makeup, but you probably want something softer when you're taking a bath. Some people even choose to have under-cabinet lighting or a dimmer switch in the bathroom to make nighttime trips a bit easier.
Including Lamps
The built-in lighting that comes with your home is great for everyday use, but layering the lighting helps you achieve that put-together look. You'll probably want to include some lamps in the living room. They're great for those times when you want to relax and don't need the entire space lit. Most people also include lamps in the bedroom, especially if they don't ask the builder to include some type of bedside lighting. The kids will also probably want a lamp by their desk for studying.
Lighting is the key to a great-looking home. Fortunately, there are a variety of styles that are both beautiful and functional!