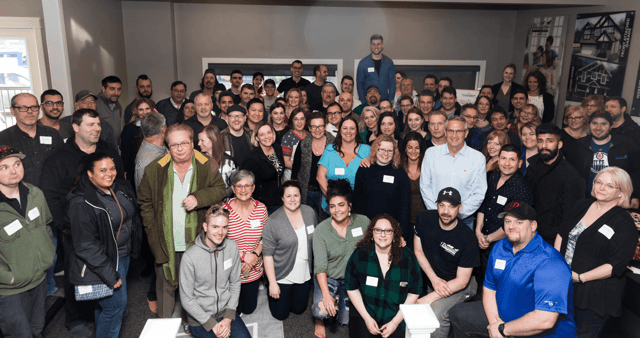 This year, Pacesetter is turning twenty! We couldn't have reached this milestone without the hard work and enthusiasm of our loyal employees. We want you to get to know them.

So, we decided to shine the spotlight on some of our long term staff members and share their awesomeness with you! We asked them a few questions about their position, how they got from where they started to where they are now, and the "secret" to their long-standing success. Here's what they had to say:
Lloyd – Vice President
"I came to Pacesetter in 2002 as a Construction Site Superintendent, then worked my way through Construction Manager, Warranty Manager, and Assistant General Manager before accepting the role of Vice President in 2015.
I can honestly say that I was able to see opportunities for advancement that were available and worked on several items like completing my Master Builders designation to put myself into a position that allowed me to take on various roles."
Gerald – Construction Manager
"I started as a Junior Site Supervisor, then Site Supervisor, then Assistant Construction Manager, then Construction Manager.

Just do the best you can and always try and improve. Try and enjoy the work and the people around. Pacesetter/Qualico has been a good employer for me and has given me great opportunities. They are a stable company in a not always so stable industry, and they continue to improve as an employer. Go Team Go!"
Vince – Drafting Manager
"I started off as a Junior Architectural Technologist, moved up into Intermediate and Senior positions, and eventually became part of management. At one point, I was the only drafter at Pacesetter and at the time we were still building over 300 homes per year!
Who doesn't want to work for the biggest and best? The reason why I've been here so long is because I enjoy what I do and working with the people I work with. Pacesetter is a stand up company that supports their employees and provides the means to grow and advance in the company while still providing job security.
Pacesetter has been like a second family to me. I really enjoy coming to work every day, meeting new people, and doing what I love to do."
Shelly – Warranty Office Supervisor

"I started out in the show homes in Sherwood Park as a Sales Assistant. The following summer our Vice President approached me with his vision to have occupancies done by an Occupancy Coordinator, rather than by the Site Supervisors. He offered me the position and, in 2006, I became the first Occupancy Coordinator at Pacesetter Homes. In October 2009, the Occupancy role turned into an Occupancy/Warranty role, and eventually I relinquished the occupancies altogether and became a Warranty Coordinator full time. In January 2014 I became the Warranty Office Supervisor.
I've gone through the rough times and many good times. Throughout it all, it's been the people here at Pacesetter that have kept me here. I see the desire to be the best in people I work closest with and this matches my goals. I appreciate that management takes the time to listen and will take the chance on new ideas."
Melissa – Manager of Sales Operations
"I started as a Sales Administrative Assistant/Newstar Implementer/Assistant to the VP, then moved to Sales Coordinator, then to Assistant Sales Manager, then Sales Manager, and now Manager of Sales Operations.
There is no secret really, just work hard don't give them a reason to fire you!
It's been really amazing to watch the company grow and change over the past 6 years. When I first started, we were building around 250 homes per year. Then, at our busiest, we were at almost 800 per year! I always love the busy times and am happy to see those sales come in!"
When you choose to work with Pacesetter, we believe you're working with the best of the best. With many years of experience under their belts, our team is a testament to our values and goals. Cheers to many more successful years to come!