"I wish my home looked exactly like this!"
This is the first thought many of us have when we step into the luxurious, perfectly decorated show homes of high-end builders. But what if we told you that your wish could come true? What if we told you that you could actually live in a show home?
You can!
We put a lot of hard work into creating quality homes that showcase our expertise in building, our designs and floor plans, then decorate them for all to see. It would be a shame, though, if we let these homes go to waste – that's why we put available show homes up for sale!
Why Choose a Show Home?
Show homes are fully-built, fully-furnished homes without owners. While they've been designed and decorated already, this has been done by professional interior designers using high-quality materials and furniture to achieve a desirable look. Many people find this appealing because it provides a good balance of timeless design and on-trend décor. If you were worried about making design and other new home construction choices, this is a huge bonus – the work is already done!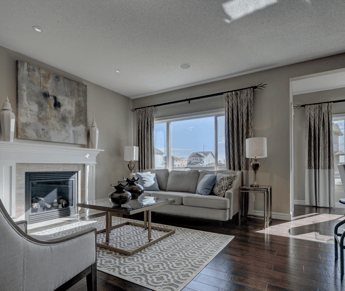 Your timeline is another factor that plays into choosing a brand new home for you and your family. If you need to move in quickly, purchasing a previous show home is a great opportunity to get a newly built home without the construction wait time. There are also options when it comes to what is and isn't included in your new show home purchase, so let's move onto the next question you're probably wondering.
What Comes With the Home?
Window Coverings
As you stand in a show home bathed in natural light streaming through the well-placed windows, you may look and notice gorgeous, fitted window coverings. If you purchase a show home, those are yours! The window coverings are custom to the home and will be included in the purchase price. No need to worry about taking measurements to find the right match; when it comes to adorning your windows, we've got you covered! ;)
Air Conditioning
No matter how beautiful your home is, when the weather heats up and you're fanning yourself with a spatula as you try to cook dinner, it's hard to feel a sense of luxury in your home. Air conditioning is one of those things that takes your home to the next level. You've finally "made it" when you have air conditioning.
Did you know we install air conditioning units in each of our show homes? When you pay the purchase price of a show home, the air conditioning unit stays right where it is at no extra cost! Fast-track your way to comfortable summers.
Home Security
With a home as upscale as your new show home, you want to ensure it's protected. We feel the same way. With each show home we build we install a top of the line home security system. We want you to feel secure in your purchase and safe in your new home. Although security monitoring is not included, you can set this up once you move in as the home security system will remain installed and is included in the purchase price of the show home.
Furnishings
What about those show homes you fall in love with completely? From the flooring to the paint colours, from cupboards to countertops, even the dining room table and the couch in the living room – you love it all! You'll be pleased to know that you can buy the home as is. That's right – all of the furnishings already in the show home are available for purchase.
You can choose to buy the furnishings in full or even in part, but in either case, it will be at a significantly discounted price. This comes as an additional cost tacked onto the home's purchase price. As previously touched on, those with a short move-in timeline or moving from afar may appreciate this option.
Feel free to consult with an Area Manager about how to purchase a show home fully furnished – it is possible to move into a brand new home and start living right away! Take a look...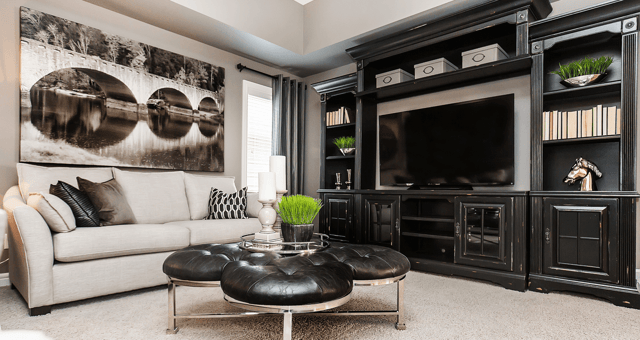 Does your idea of a "chill lounge" strike a balance between retro and modern with its design? Make it a reality – these furnishings are available with the Georgia model in College Woods at 9720 – 222 Street NW.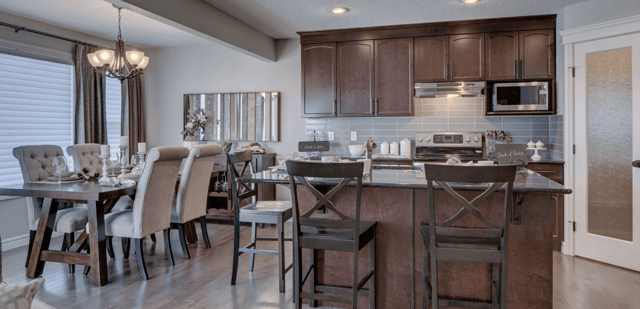 Those chairs already match perfectly with the centre island! And you've only ever seen that dining room set in your dreams. You won't want to give those up if you purchase the Maddy II show home in Glenridding Heights at 1407 – 164 Street SW.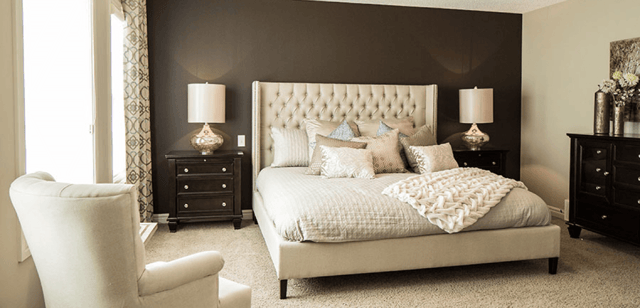 Why move your outdated bedroom set into your brand new show home when a set like this is available? Step inside the Secretariat in McLaughlin at 287 Nelson Drive, Stony Plain, then lay down and stay a while. It could all be yours.
Which Homes Are Available?
In addition to the homes mentioned above, we have a variety of show homes for sale in various charming and family-friendly new communities. There are also numerous styles available to suit your family's needs: homes with front-attached garages, homes with rear detached garages, and duplexes. You'll find the contact information of representatives for each show home for sale on our site. When you contact them to learn more, they'll be happy to answer any questions you may have.
Living the life you imagined as you toured show homes in awe just got a whole lot easier! This path to a brand new home is quick, affordable, and leads you to your personal palace – don't settle for less.