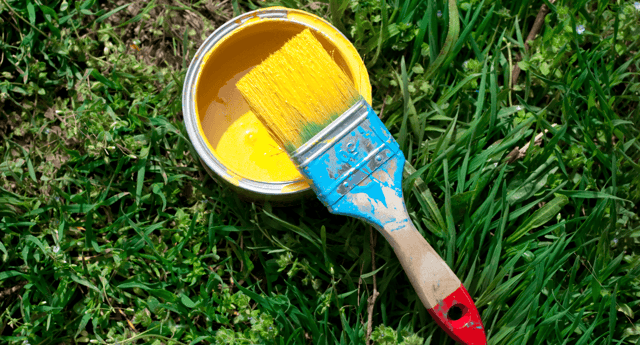 Finally, spring has sprung! As you cast aside your curtains and crack open those windows for some long overdue fresh air, you'll also be greeted by plenty of emerging colours. Lush green grass is beginning to surface once again, colourful flowers blossom under the sunlight, and natural pastel hues paint the sky – the signs of spring all point to one thing: new beginnings.
With that in mind, this season is the perfect opportunity to bring some of the outdoor vibrancy of spring into your home. Below, you'll find a list of colours that take inspiration from the great outdoors and are topping the charts this year. Whether you pick up a new accent piece or opt for a fresh coat of paint, these hues can really bring life back into your home.
Earthy
Soft Silver Sage
This soft blend of grey and minty green is reminiscent of clay and leaves. Soft Silver Sage is a minimalist colour, made and noted as a 2017 favourite by Valspar. Covering a large furniture piece, such as a wardrobe, or as the main wall colour throughout your home, this colour is crisp, yet brings a soothing quality to large spaces.
Baked Terra Cotta
This rich, natural tone by Valspar takes the earthy feel to another level. Baked Terra Cotta is a warm colour with deep orange and hints of brown that resembles red soil. Paired with the right amount of texture, this colour can make a room feel truly "sun-baked".
Poised Taupe
Sherwin-Williams' choice for their colour of the year is none other than Poised Taupe. Perfect for those who can't quite get into cool greys or warm browns, this colour is a balance between the tones. Balance is translated into a feeling in a room painted in Poised Taupe, with its organic, neutral semblance.
Sky Tones
Peek A Blue
This light blue hue is as playful as its name. Behr's Peek A Blue has the milky comfort of a pastel but is muted enough to work well in a bedroom. Using this colour to paint walls with white trim or wainscoting is an ideal pairing, reflecting the essence of fluffy clouds against a blue sky.
Shadow
Another "colour of the year" is Benjamin Moore's Shadow. While this colour takes inspiration from a deep purple sky at dusk, it earns its spot as "colour of the year" for its ability to evolve with the time of day. Early morning highlights the lilac-grey tones, while evening light accentuates the deep violet – Shadow is a colour that can really set a mood.
Violet Verbena
If you enjoy purple shades, but Shadow seems a little too dark, you may like PPG Paint's colour of the year, Violet Verbena. This colour is classic, yet versatile; it can be matched with a variety of other colours to create different vibes in a room. Tie in some pinks or even yellows to give a room that mystical sunrise feel.
Flora & Fauna
Greenery
You could get a houseplant to bring the classic green of spring into your home, or you can take it one step further and incorporate Pantone's colour of the year: Greenery. This colour is natural, but definitely vibrant. Don't be afraid to play around with it, though. You may choose to paint an accent wall, or just include green accessories; either way, pairing it with wood tones will give you that outdoor feel, indoors.
Honey Glow
When we think of floral, we often think of bright pink or red petals. However, Dunn Edwards chose Honey Glow as their colour of the year because it takes a different spin on floral inspiration. When you look at Honey Glow, you are reminded of pollen, bees, and of course, honey! This colour, yellow with orange undertones, creates a cheerful ambiance with a lot of pop.
Lively Blush Apricot
Valspar took their inspiration from a different sort of plant life with Lively Blush Apricot, a fruity shade with plenty of design potential. Pops of this colour can add some tropical spice to any room. Lively Blush Apricot painted on just one wall in your living room will give it an energizing glow (and maybe make you a little hungry!).
Trying out different colours in your home is refreshing, and spring is the best time to do this. Have fun, be bold, and look for inspiration in your own backyard. Cheers to new beginnings!