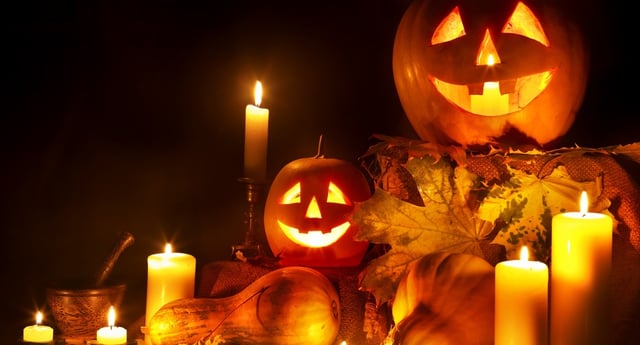 With Halloween just around the corner, now is the time to start dressing up your home to get in on the fun and delight your neighbourhood trick or treaters! We brought you some fun Halloween decor ideas last year and thought we needed to give you some new ones.
You don't need to break the budget with larger-than-life inflatables, smoke and lights to make your decor a spooky success. Check out these simple and effective Halloween home hacks and you'll be ready for the big day in no time!
1. Monster Doors
Use construction paper, streamers, paper plates or whatever you have on hand to turn your front door into a monster! A couple of giant eyeballs, fangs, and some hair go a long way in transforming your door.
2. Creepy Visitor
Grab some old clothes, stuff them with rags, blankets or whatever you have on hand to create a scary porch guest. Have your "friend" stationed on a rocking chair or on the steps to your front porch. Leave the figure headless, or choose a hooded sweater or jacket so visitors are left wondering if this person is real or not.
3. Floating Ghosties
These flying ghosts are super fun and easy to make. Blow up some white balloons and tie a long string to each. Use some old white bed sheets or pick up some white fabric or cheesecloth and cut into large squares. Make a small hole in the centre of each piece of fabric and feed the string through. Use the string to tie to trees and keep the fabric draping down over the balloon to create the ghost. You can use a black marker to draw three circles for the eyes and mouth. Make as many as you want and let them blow in the night breeze!
4. The Living Dead
If you are planning on adding another flowerbed to your yard, Halloween could be the ideal time to start this project! Cut a piece of cardboard with a rounded top, spray paint it grey and use a marker to make a custom tombstone. Place this next to your freshly turned over dirt and use a light to illuminate it. Or leave the sod intact but loosen it and lift it up from the ground a bit with a shovel. In the space between the grass and the dirt you can stuff a pair of gloves and have them coming out like someone is trying to escape. You could even use limbs from a plastic skeleton. The options are endless for this spooky landscaping feature!
5. Witch Legs
If your home has a garage then you have the perfect spot for some witches legs! Stuff a pair of pantyhose or tights from about the knees down and put some shoes on the end. Place these just at the edge of your garage and then close the garage door so it looks as though the legs have been pinched. Throw a corn cob broom down somewhere next to the legs for that extra witchy touch!
6. Spooky Wreath
Pick up a twig wreath, or wrap a foam wreath form with burlap and attach some black bats by tracing bat shapes onto black felt and cutting them out. This creepy wreath will give your front door the perfect Halloween feel. You can hang extra bats around your front porch using fishing line and watch them flutter in the breeze!
7. Spin a Web
Create a giant spider web by using coloured pieces of yarn and tying them together into a web shape. Fasten this above the front porch to amp up the Halloween fun for your Trick or Treaters. You could even create a giant spider with fabric and black socks if you want.
8. Eerie Branches
For this simple project, you will need some branches, pumpkins and black paper. Hollow out the pumpkins to use as bases and stick bundles of branches into the pumpkins. Cut out some bird silhouettes from the black paper and secure them on the branches. Arrange these bird and branch clusters leading up to your front entrance for a spooky walkway for visitors.
9. Ghoulish Drapes
These creepy drapes are created using large sheets of cheesecloth and tearing holes and slices in them. Attach one edge of the cheesecloth above your porch and the tattered and transparent drapes hang down to give the perfect eerie effect.
10. Teal Pumpkin
Switching gears a bit now, have you heard of the Teal Pumpkin Project? Participants in the project display a teal coloured pumpkin outside their door to show that they have toys and treasures available for trick-or-treaters as an alternative to the traditional treats.
The purpose of the project is to raise awareness about food allergies and to be able to include all trick-or-treaters in Halloween festivities. If you pick only one DIY Halloween project this October, consider painting a pumpkin teal and then pick up some non-candy items for your visitors!
Wishing you and your family a safe and Happy Halloween!