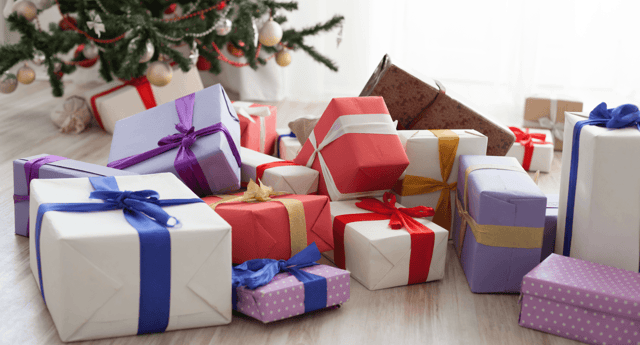 Whew! Is the excitement (and possible chaos) in your home finally starting to settle? Or have you found yourself surrounded by open boxes, scraps of wrapping paper, ribbons, and bows?
That's okay.
This is the perfect time to organize all the new items Santa delivered, and purge and donate the old. Here are some tips for doing just that.
Out With The Old
With brand new toys making their debut in your home, you're presented with the ideal opportunity to openly donate the old. You'll be able to talk to your kids about making room for their new toys, and how they can make other kids happy with their old ones. Don't be afraid to really purge here – fewer toys can actually benefit your kids.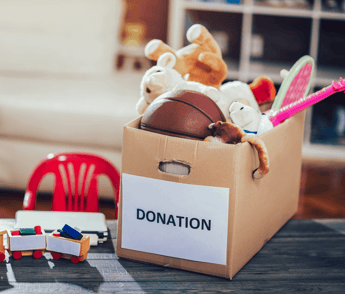 What to donate?
Grab a few boxes, label them "donate," and get started!
You'll want to start with low-hanging fruit; it should be easy enough to identify which toys are no longer used. You should also cut back on the types of toys or clothing items that have just received new additions. For example, if your kids got three new stuffed animals for Christmas, put three old stuffed animals in the donation box.
Since many charities have "wish lists" of most wanted items on their sites, another idea might be to look through these and see if you have anything to provide. You can get your kids involved with this, saying things like, "these kids have no Lego of their own, would you share some of your old pieces since you got a brand new set this year?" You may be surprised by their generosity.
Where to donate?
There are a variety of charities that accept donations of everything from food to clothes to toys, so it may be a matter of matching up what you have with what is needed. As mentioned, many organizations have "wish lists" that can help you donate your items where they're needed most. Charity Wish List is a handy site that allows you to search for locations near you based on what you want to give away.
In Edmonton, there are a number of options. Kids Kottage is a support service for parents faced with a crisis. Children are provided with a safe place to stay at "the Kottage" temporarily, while parents resolve the issue with support also provided by this program. Your donations here contribute to these ongoing services; see their wishlist to learn what's needed and how to make your delivery.
Your donations to Inclusion Alberta contribute to the quality of life of both children and adults with developmental disabilities. Your goods will be sold to Value Village, then the funds are used to directly support them, which allows your help to have a dual purpose! You can either find a location near you or even schedule a free pick up on their website.
Goodwill Alberta is a non-profit organization that accepts donations to then sell through thrift retail stores to community members at reduced prices. You can find a location nearest you for drop-offs. They've also collaborated with College Hunks Hauling to provide a 48-hour pickup service for those who want to purge larger items such as furniture and electronics.
Other ideas might include local homeless or women's shelters, and often churches or community centres collect donations for various charities. We suggest checking with your community site for postings.
In With The New
Now that you've made room for new items, the last thing you want is to leave them haphazardly around the house. It's time to organize!
Take all the toys and other items out of their boxes and wrappings and recycle that paper and cardboard. Next, divide items by type or where they'll be used. For example, group books together, electronics, clothes per bedroom, and so forth. Tupperware bins are great for storing toys, and you can label them by type (ie. "Barbies," "Building Blocks," etc.).
Instead of keeping toys out in the kids' bedrooms (or worse, the living room), consider storing the bins on shelves in the basement – you can even build one yourself quite easily. Set a "one bin at a time" rule to keep things clean and contained.
For more frequently used items, a designated bookshelf can work wonders. Books, board games, and other favourites can be kept out on display for easier access. You might like to get into the habit of "toy rotation," where you regularly swap the "main toys" with ones from storage bins to give new life to the older ones.
One last tip? Consider keeping a basket of all electronics somewhere out of reach (like above the fridge) so your kids have to ask permission to use them and can do so under supervision.
Okay, okay, that's enough! You've had festivities, and buckets of toys and fun; you've donated what you no longer need to those who do and stored away the rest. Now, it's time to relax (in a more organized, less-cluttered home)!