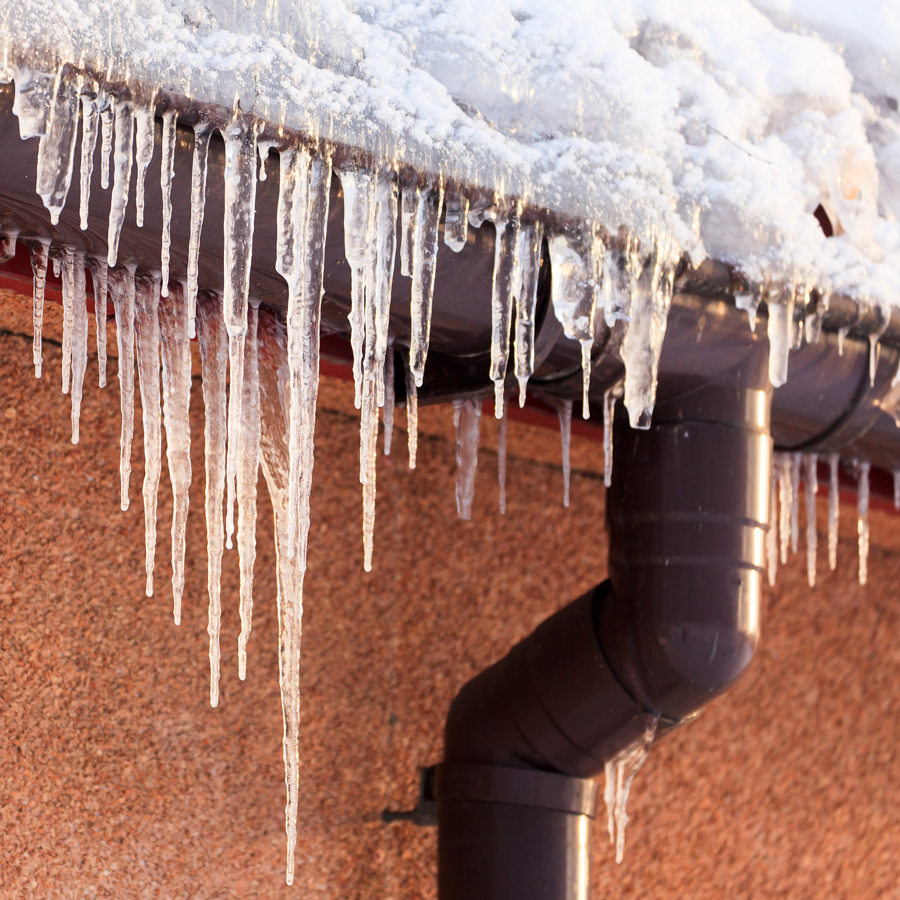 Winter has arrived in full force, and the last thing you want to be is cold inside your own home! Here are some ways you can winterize your home to maximize your comfort and lower your utility bills.
Exterior Home Checklist
Even if you plan to spend most of your time indoors, you still need to prepare the outside of your home for the colder season. If you don't, any problems that occur on the outside can quickly turn into major problems on the inside. Either way, you don't want to end up with any unexpected repair bills or home emergencies.
Ways to winterize your home's exterior:
Inspect and clean all gutters. Ensure they are securely attached to the home. Clean and secure gutters are necessary for snow to melt and drain from your roof properly, and will prevent the need for roofing repairs.

Depending on how long your gutters are, consider adding additional downspouts to encourage water to drain at least three to four feet away from your home. This will help prevent ice dams from forming on the roof. Downspouts will also keep melted snow and ice from flooding around your home's foundation.

Hire an inspector to determine if any deficiencies exist with your home's roof. Deficiencies can affect your home's warmth during the wintertime. It is also a good idea to clean your roof of leaves, rocks, moss, algae, and other types of debris that hold moisture or cause leaking.

Disconnect all water hoses on your property and drain all outdoor faucets and spigots. Turn off the water shutoff valve for your lawn's sprinkler system. This will help prevent the water pipes from freezing and bursting.
Interior Home Checklist
Once the temperatures start to drop, you may be tempted to turn up the heat inside your home. While this will make things toasty on the inside, it will also cause your energy bills to skyrocket. The best way to improve the comfort of your home is to prepare it.
Easy ways to winterize your home's interior:
Hire an inspector to determine if there are leaks or draughts in the home. One of the most common ways for thermal energy to escape from the home is through windows and doors. Add silicone caulk or window putty to your window frames to ensure there are no gaps to allow cold air in and warm air out. In addition, add weather stripping to the doors to keep energy from escaping. Ensure that every room in your home, even if it is not in use, is properly insulated for the season.

Perform a furnace inspection. One of the most frightening situations to deal with in the middle of winter is a furnace that suddenly stops working in the middle of the night. If you don't want to wake up to ice cold floors and freezing showers, check your HVAC system in advance. Also, cover your pipes and water heater with blankets to keep them warm and insulated against the cold.

Set your thermostat to somewhere between 18-20 degrees. This makes it easier for your furnace to function. You lose more money by turning the temperature up and down than you do from keeping it set to a temperature that's warm enough to keep you comfortable on a cold winter's day. And don't forget to turn it down at night!
Save yourself a great deal of time, money, and headaches by getting your home ready for winter now!
What kind of tips do you have for getting your home ready for winter? Share them with us in the comments!