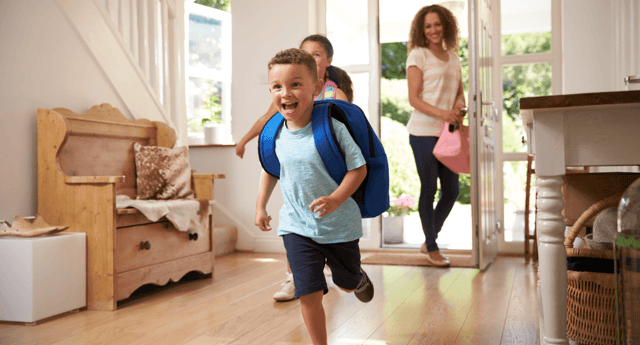 The carefree sunny days have come and gone too quickly, but there's still time to prepare for what comes next.
Before you start seeing signs of the changing seasons, red and yellow appearing everywhere as leaves change on trees and school buses trekking on the streets, you'll want to make your own changes.
And yes, you read that right, school buses – fall, also known as back to school season, is almost here.
Here's what you can do to get a head start on preparing for it now.
Return to a Regular Routine
About a week (or more, if you have particularly stubborn rugrats) before school starts, get the kids used to what will be their new sleeping schedule. Gradually have them going to bed and wake up earlier so they'll be pros by the time the first day arrives, making mornings easier on them and you. The first few days of practice may be rough, so try using incentives - such as pancakes for breakfast - to get the ball rolling.
Another important aspect of staying on schedule is having a morning routine. Try to stick to the same sequence of events (ie. breakfast in pj's, followed by teeth brushing, and dressing) and maintain that order every day. There is also something to be said for making it easier by making it as fun as possible; for example, bring the beats to the bathroom and allow your kids to pick a "tooth brush song." They'll look forward to the task (and you'll look forward to the bright smile they flash after actually brushing for a full two minutes.)
Use Evenings Effectively
Morning routines are more obviously necessary because of time restrictions, and this is exactly why you should make better use of your evenings! Establishing an evening routine as well, where you and your kids prepare certain things for the next day, will make mornings run even more smoothly.
Meal prepping is a huge time-saver; you can pre-make freezer meals on the weekend that can be taken out throughout the week. Also, work on making school lunches the night before which helps avoid the I-don't-want-that argument in the mornings!
Having one drawer or area of the pantry dedicated to school snacks is also a smart idea; make it easily accessible to your kids and add picking two or three snacks to their evening routine. After lunches are packed, school bags should be next; make sure your kids have everything they need for the following day and place bags in the front foyer or mudroom so they're grab-and-go ready.
Another thing your kids can and should do on their own (depending on their age) is choosing their outfits. This can be done the night before or you may prefer they prepare a weekly wardrobe on Sundays. A "days of the week" closet organizer makes this a simple task.
Amp Up the Organization
The above tips can help you and your kids stay organized and on-time, but you can also make some design adjustments so your home works in your favour, too.
If you have a mudroom, or space in your front entrance, consider installing storage compartments for daily necessities. You could include lockers for each family member, or height-appropriate hooks and cubbies for your little ones. School bags, lunch boxes, coats, umbrellas, shoes, and more can be kept here so nothing is forgotten even on your busiest mornings.
This will also become the drop-off centre after school, so consider including a "mailbox" where kids can place things you need to see, such as report cards, reminders, and permission slips. Complete the space with plenty of outlets to keep needed electronics charged and ready to grab on the way out the door.
Set Up a Study Space
One of the best ways to minimize the number of times you have to shout "do your homework!" is by having a dedicated study space. This area of your home should be free from distractions and stocked up with supplies like notebooks, pencils, pens, and a laptop if required. Set up an organized desk fit with a desktop lamp for easy textbook reading.
You may want to make this more than a study space with some additional organizational elements to manage the household. If so, then include a large, wall-mounted calendar where you can post schedules for the entire family. Test dates, basketball practices, piano lessons, and any other activities will be visually organized to keep everyone on track. A chalkboard or whiteboard hanging next to it can be used for other reminders or even to set weekly goals.
Arrange After School Activities
Although the mini humans are released between two and three in the afternoon, the majority of parents work later than this. Make sure you have proper care arranged, whether you hire a babysitter or take advantage of an after-school program offered by your kids' school. Look into the extracurricular options, such as sports or arts programs, as they may run after school hours as well. Your child can develop a new skill while remaining safe and supervised.
Even if you'll be home and won't need alternative after-school care, you should plan activities for when the kids get home. Of course, you'll need to block out time for homework, but fit in healthy breaks, such as a nice family walk before or after dinner.
Ease the Transition
While routines and organization can get your kids to and from school without a hitch, it's important to pay particular attention to additional support your child may need during this transition. In the weeks leading up to the first day back to school, talk to your children about what to expect at school and allow them to address any concerns with you.
Some kids may be worried about the workload while others are, unfortunately, nervous about being bullied. Make sure your kids know the lines of communication with you are open, and pull up some parenting tips online if you're unsure about how to approach a specific topic.
If your child has particular sensitivities or needs special accommodations, you can ask the school for a list of your child's teachers, which will allow you to contact and inform them ahead of time. You may even be able to arrange to bring your child in to meet them beforehand or tour the school if it's a new one. Your kids will feel much more comfortable the first day if they know where they're going and are able to find a familiar face if they need help with anything.
If you listen closely to your kids' needs or concerns about school before it even starts, you can find the best ways to relieve their anxieties and prepare for a better school year.
Incorporating some or all of these ideas can significantly reduce the school time stress. And doing so in advance will mean getting ready to go back to school isn't a race against the clock (especially since you know that no matter how many of these tips you employ, you still have enough racing around ahead of you!)