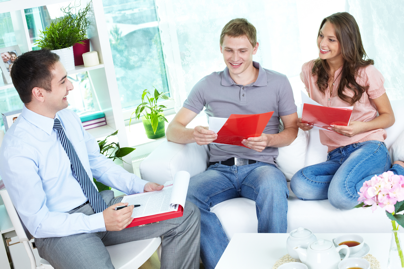 Buying a home or condo will probably be the largest financial decision and process that a person or family will ever make. Because of this, it is important to take the time to make sure you and your family are financially prepared for such as major purchase. This will make sure that you are prepared for the home itself and the expenses that go along with ownership.
How Much House Can You Afford?
The first step a potential homeowner should take is to get assistance to find out how much house you can afford. This will be the basis for determining the price range of homes to look for, as well as the amount that you will need to save. You can use an online calculator to figure out a rough estimate but banks employ mortgage specialists available days, evenings and weekends to assess your maximum monthly payment based on your savings and income. Look at online real estate listings to determine if you're happy with your given price range, or if you need to save some more before continuing with the buying process.
Your Mortgage Specialist
Mortgage specialists will factor in associated costs, such as property taxes and utilities, things that aren't part of the mortgage itself. Keep in mind that affording a home is more than a mortgage and a down payment. It's important to get the best interest rate possible, as well as pay attention to costs such as property taxes, property insurance, and CMHC fees. Interest rates play a part in the approval process and should be factored to fall in line with expected possession dates.
To get a good interest rate, start by doing everything you can to improve your credit score. Pay your bill in full and on time, and get a copy of your credit report to check for errors. Keep in mind that improving a credit score takes time. When going through the pre-approval process the banks will consider your credit score. All the factors impact your beacon score and it needs improving ask them for advice on how to accomplish that.
What Type of Loan Will You Need?
Additionally they will determine and guide you as to the type of loan you should apply for, insured or conventional, length of term, down payment options, and payment schedules that will save you money. Insured loans make up the majority of mortgages as conventional loans apply when a minimum of 20% down payment is available. In the meantime, begin researching loans and make a decision on how much of a down payment you want to save. While there are loans available that will not require you to make a down payment, these loans come with CMHC fees that protect the bank in the event that you default on the loan. On the other hand, saving a down payment can take years. Decide if renting for a longer period of time while you save will give you the same benefit as buying now and paying CMHC.
Next, take a look at the estimated taxes and insurance costs of the properties you're interested in. These factors can add hundreds of dollars to your monthly housing payment. You should also keep in mind that the landscaping for your new home is not included in the cost and you will be responsible for this. In some cases, you might qualify for a reimbursement on some of those costs!
Finally, save for maintenance on the home. While it is impossible to know exactly what will go wrong, most experts agree that a homeowner should save one percent of their home's value every year to go towards maintenance costs. Keep in mind that this is maintenance, upgrades are separate.
Once you have an estimate of your purchasing power, get a pre-approval letter from the lender you choose. A bank will be able to give you an estimate of the interest rate you qualify for and issue a letter to your realtor stating your purchase price range. With this information, it will be possible to start looking for a home. Don't worry about getting your number figured out exactly at this point in the first time home buying process. As you look at homes, your bank and realtor will be able to give you good estimates for taxes and insurance costs that will affect your payment amounts.
Take the time to make sure that you are ready to purchase a home and you'll be enjoying it for years to come.
Image courtesy of DepositPhotos.com, @Dmitriy Shironosov