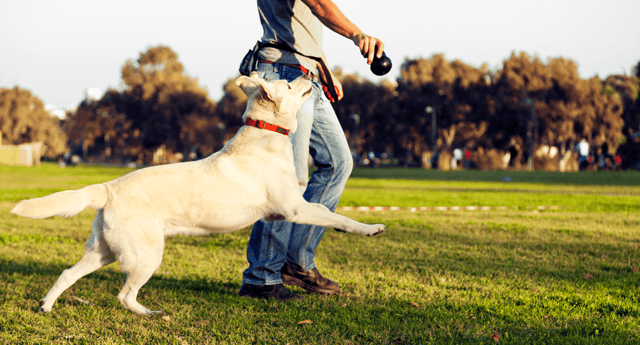 One of the most exciting things about spending time with your dog is visiting Edmonton's many green spaces. You and your dog will get the most out of a trip to the park when the location is one that allows off-leash exploration. The great news is that the city has many parks convenient to most neighbourhoods that you and your furry friend will enjoy.
Terwillegar Off-Leash Park
This park is handily located in the southwestern part of the city and features some stunning Saskatchewan River views. In addition to beautiful views of the river, Terwillegar Park also has jogging and bike trails perfect for the most active pet parents. There's not only plenty of room to roam for all, but swimming is perfectly okay in the river here.
Buena Vista Park
Buena Vista Park is also on the Saskatchewan River and is one of the larger off-leash parks. Its location is a little more secluded, creating a quieter atmosphere. The local terrain includes a nice mixture of open fields and forested areas.
Edmonton Humane Society Central Bark Off-Leash Park
A members-only dog park (you can join!), Central Bark features management by the local humane society. Part of the fee paid for access to the park goes to help support its upkeep. This park spans a 3-acre area, with one section for all sizes and one for smaller dogs.
Belgravia Dog Park
Best-known to people seeking off-leash parks, this location is somewhat of a hidden gem locally. The river valley location provides some terrain that's easy to navigate and has beautiful scenery. Some of the locations visible from Belgravia Dog Park include the Valley Zoo and the Equine Center.
Hawrelak Trail Off-Leash Park
One of Hawrelak Park's best features is its amount of open space. Abundant trees also keep everything well-shaded, even when summer temperatures hit their highest levels. Make sure you arrive nice and early to get a parking space in a good location.
Hermitage Park
People who frequent this park enjoy its lack of distractions like cyclists. Another advantage for many a dog owner, too, is that Hermitage Park is somewhat removed from busy roads, perfect for dogs with undeveloped recall skills. Both dirt and paved walking paths are present to help give you whatever type of experience you want.
Mill Creek Ravine
Both dogs and their owners get a lot of enjoyment from Mill Creek Ravine park, which is a favourite for its unique terrain and amenities. A creek winds its way through the park, which has several access points to the waterfront area. There is plenty of room for all, no matter whether swimming or just exploring.
Lucky Donkey
If you've always hoped for an indoor dog park, this location will definitely meet your expectations. The Lucky Donkey not only gives your dog a place to play when it's cold, but it also provides a lot of unique activities, like ball pits housed inside kiddie pools. Another nice thing about the Lucky Donkey is it's also used as an event centre, perfect for kids' birthday parties where the dog wants to be a part of things too.
Gold Bar Park Off-Leash Trail
Gold Bar Park is the largest urban park in the province. In addition to this location being open all year, it also has some of the area's most beautiful fall foliage and a path along the river.
Jackie Parker Park
Although the park is not as well-known as some other locations in the city, Jackie Parker Park is well worth a visit for its peaceful setting. The space is large, perfect for dogs who love to run. Its overseen by a group of volunteers who help keep everything cleaned up.
Strathcona Science Park
Many locals love the Strathcona Science Park for the wealth of outdoor winter activities it offers. However, it's also an ideal place for dogs to get out and enjoy a good run. Any location that caters to both yours and your dog's exercise needs is always worth considering.
Easy access to so many fun outdoor areas is always an excellent choice to consider when looking for a home and a great new neighbourhood. Pacesetter's communities are all located near amenities and activities perfect for the entire family, including the four-legged ones!