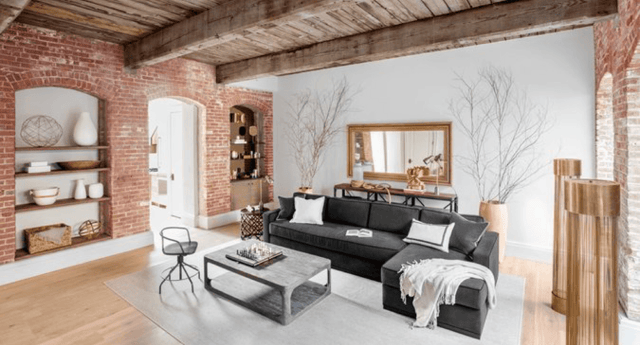 Sure, you may have already heard about different decor styles from around the world. Parisian, Spanish and the ultra-trendy Scandinavian are popular style choices, to name a few. But, instead of looking to decor influences from across the globe, why not take a little inspiration from the good 'ol Great White North? Cozy and fun, colourful and rustic, Canadiana decor is a great way to embrace your inner Canuck and create an interior look you're sure to love!
What is Canadiana Style?
When it comes to Canadiana style, the keyword to keep in mind is the rustic aspect we mentioned above (think cabin by the lake). A room with Canadiana style is comfortable, casual and has a lot of natural features. Many people incorporate symbols connected with Canada into this type of décor. Some examples include our flag, the Mounties, the Canadian horse, the maple leaf tartan and more.
Typical colours used in Canadiana décor:
Grey

Deep green

Navy

Brown

Red

White


The Bedrooms
Why not give your guest or master bedroom a dose of Canadiana style? For the walls, you could go with a few colourful prints featuring outdoor scenes of deer, moose or grizzly bears wandering through a forest. Or, maybe a Canada goose flying over a pond at sunset. Consider creating a focus wall with wallpaper designed to look like a wood full of birch trees.
You're also sure to catch a few zeds if you draw this comfy style into your bedding. Try a fluffy maple leaf tartan comforter and matching pillowcases (this will be especially cozy during the winter with flannel sheets!). If you have white or neutral coloured walls, this bedding will really be a standout in your bedroom's décor. In the summer, you can opt for a white bedspread with a couple of bright red pillows. Echo the red and white theme with red curtains for your bedroom windows.
The Kitchen
Instead of a traditional circular kitchen table, opt for a wooden farmhouse style table and benches instead of chairs. A rack with copper pots and pans hanging above the kitchen island serves as a touch of country style. A fruit bowl on the kitchen table carved in the form of a maple leaf as well as red and white curtains would contribute to the scene. All you need now is some Canadian bacon!
The Great Room
An airy great room with a beautiful fireplace serves as the perfect foundation for Canadiana décor - and a great place to curl up with a good book and a double-double. A rustic-looking bronze chandelier in a wagon wheel design with lights shaped like candles would be the highlight of your great room. Get three or four lamps with wooden bases shaped like deer antlers to set at various spots around the room.
A Chesterfield and easy chairs in navy-blue fabric would be an appealing addition, and you can enhance them with an eye-catching area rug (with a little of the same colour). Bright red or white throw pillows would also mix well with your theme.
Other rustic touches for your great room:
A wooden rocking chair

Dark wicker baskets

A wagon wheel style coffee table


The Foyer

Your foyer isn't just a place to hang your toque; it's the first impression of your home. To give your foyer a little Canadiana style, set a wooden bench on one wall. To enhance the look of the bench, get a seat cushion in red or white. A braided, red and white rug would complement the colours on your bench along with red or white curtains on any nearby windows. A floor lamp with a wooden base and a parchment lampshade featuring a pine cone image would give the area a little more light and contribute to the theme.
The Dining Room
Begin with a picnic style table made of poplar with matching benches. A chandelier with an antler design would look appealing over the dining table. Try hanging a mirror with a frame of weathered wood near the table to reflect the light from the chandelier. Red and white candles (even serviettes), pine cones in a wooden bowl or an arrangement of pine branches would be the perfect Canadiana centrepiece for your table (all you have to do is throw your runners on and collect a few).
The Mudroom
Though no one stays in the mudroom for very long, it still deserves a bit of Canadiana style. Give a coat of deep green paint to the wall where the cubbies and hooks are located. Hang up a large framed print of a famous Canadian landmark such as the Canadian Rockies, Banff National Park or Hopewell Rocks. For just a couple of loonies you can personalize the space by putting a name tag in the shape of a maple leaf on each cubby, so each child has a separate place for their backpack, books, etc.
The Bathroom
Canadiana style in your washroom begins with the colour of your walls. Soft grey walls can be an excellent backdrop for framed pictures of wildlife or other nature scenes. A wooden towel rack or toilet paper holder with a moose or grizzly bear design on it is a quirky addition to your bathroom's décor. Red towels and washcloths along with a red fuzzy bathmat give a dash of colour to the space.
In short, if you're looking for a fresh new style idea for your home, you may not have to look any further than your own backyard. Decorating one of your rooms (or more if you're a real keener!) in Canadiana style is a great way to make your home friendly and inviting - just like Canada, eh?