For many homebuyers, the choice of the type of home they choose to buy is most influenced by the answer to one simple question:
How much is it going to cost?
But answering this takes more than a glance at a price tag. As time passes in your new home, it's going to be the mortgage payments you have to budget for.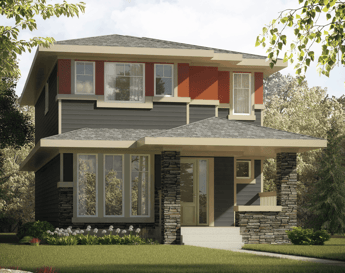 So what if we told you there's actually not a huge difference in mortgage payment costs across all Pacesetter home types?
It may seem hard to believe, but let's break it down.
What Types of Homes Does Pacesetter Offer?
When you choose to work with Pacesetter, you have options. The types of brand new homes we build are:
Laned homes. These models have rear detached garages.

Duplex homes.

Front Attached Garage homes. These models have front-attached garages.

Townhomes.

Zero Lot Line homes. This refers to properties in which the model is built near the edge of the property line, and therefore closer to neighbouring home.
Models in each category vary in size, design, and layout, but share similarities in terms of structure. But you'll even see varying prices for models within each category.
In addition to budget, we highly recommend that you make your decision based on your family's lifestyle needs. You may find this is an even more important consideration to make when you realize mortgage payments won't vary that much between products.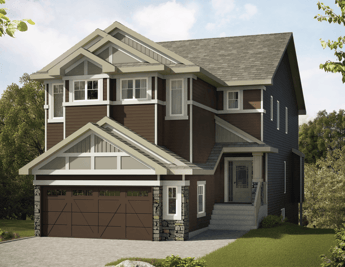 To Put it Into Perspective…
With the help of one of our experienced (and awesome!) Area Managers, Sue Snyder, we're able to give you a better idea of what a potential mortgage payment would look like for our various types of homes. Sue calculated the following based on the least expensive models in each product line. These examples are also calculated as if the buyer put a 5% down payment, and obtained a mortgage at a 2.89% interest rate.
In this table, you're also able to see the difference between bi-weekly mortgage payments and monthly mortgage payments.
| | | |
| --- | --- | --- |
| | Bi-Weekly | Monthly |
| Townhome | $685 | $1,488 |
| Duplex | $679 | $1,476 |
| Laned Home | $697 | $1,516 |
| Zero Lot Line Home* | $743 | $1,614 |
| Front Attached Garage Home | $823 | $1,790 |
*Front Attached Garage model used for this example.
Note: These results do not take CMHC fees into account.
What Does This Tell You?
With only a couple hundred dollars marking the mortgage payment difference between, say, a townhome and a single-family home, getting the home you really want may be more affordable than you thought. So when it comes to making the decision of which type of Pacesetter home is right for you, you're granted more flexibility to explore reasons beyond cost. Some other questions you can ask yourself might include:
Do I plan to live here short or long term?

Is there room for the kids/will I be having kids here?

Will I have enough cash for closing costs and other fees?

Do I have an emergency fund?

Do I want one or two floors? Will I finish the basement?

What type of layout do I want?

Do I want a front attached or rear detached garage?

Do I love this area/community?
And so on. When there aren't drastic leaps between the mortgage payments you'll be paying bi-weekly or monthly depending on the home type, you're able to focus more on how these homes will best suit the needs and wants of your family.
If you're interested in learning more about your mortgage payments in any given home model, talking to one of our Area Managers can help you map out the potentials. Visit our show homes to speak with them, and while you're there, try envisioning your life in the home – not just your bills. When your home works for you, you're likely to enjoy it more than if you're just working for your home.
Photo credits: savings