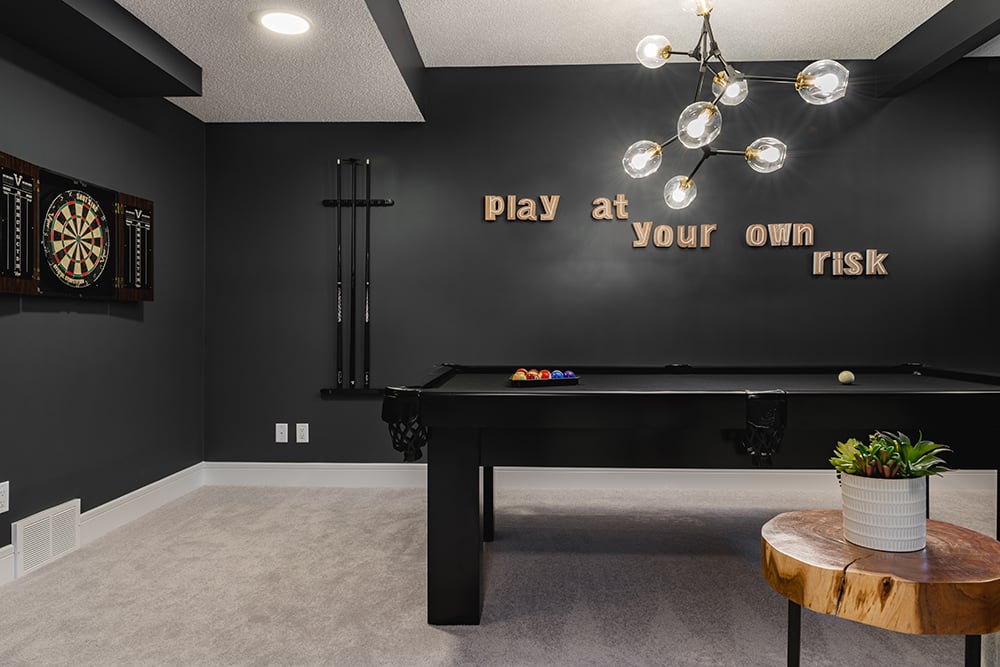 Getting tired of coming downstairs to an empty basement that has transformed into a glorified storage room? Building a brand new home and want to get the most out of every square foot of your floorplan? Forget about cold floors and bare stud walls – your basement can be an entertaining hot spot, income suite, or haven for the kids. Today, we're going to compare two of our show homes that feature finished basements to give you some interior design inspiration when it comes time to build your dream home, or update your current home!
Comparing Interior Design Styles: Basement vs Basement
Today's basement showdown features two models with basements that are perfect for friends and family. Each of today's models showcase unique interior design and finish selections that create spaces that are totally unique. Looking to entertain friends with a drink and a game of pool? Want to invite the whole family over after a trip to the beach? The Lusitano in Jensen Lakes features a basement that is sure to be the hangout of choice for everyone. In the opposite corner of today's showdown ring: the Tallinn in Desrochers! Whether you need some peace and quiet or a space for the kids to do homework, Tallinn's basement is a place that your family will love.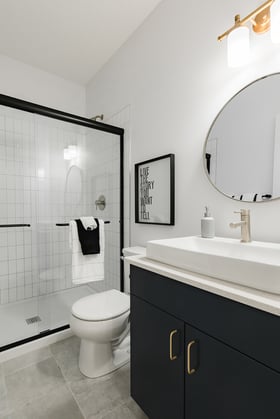 The Jensen Lakes Lusitano
Welcome to everyone's new hangout. The Lusitano in Jensen Lakes is one of our award-winning show homes, and once you set foot in the basement, it's easy to see why. As you descend, you're greeted with a warm tile floor that extends into the nearby full bathroom. Whether you're hosting family from out of town, or need another space for guests to freshen up after a trip to the beach, the full bathroom is a

Nearby, the entertaining begins with the stunning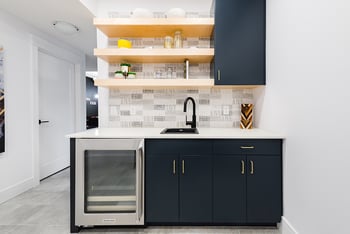 wet bar. Mirroring the cabinetry found upstairs, the wet bar features bold navy cabinet faces with brushed bronze hardware. A pristine quartz countertop and playful tile backsplash compliment the dark silgranite sink and faucet, while the included stainless steel bar fridge can accommodate whatever is on the menu. The wet bar has ample storage space and makes cleaning up after a night with friends easy.welcome addition to the stunning floorplan.
Moving further into the basement, friends and family can make full use of the rec room. Here, you can enjoy a game of pool under a stunning pendant lighting feature, or cozy up for an evening movie. No matter what the night has in store, the basement's smart décor and warm design makes entertaining a breeze.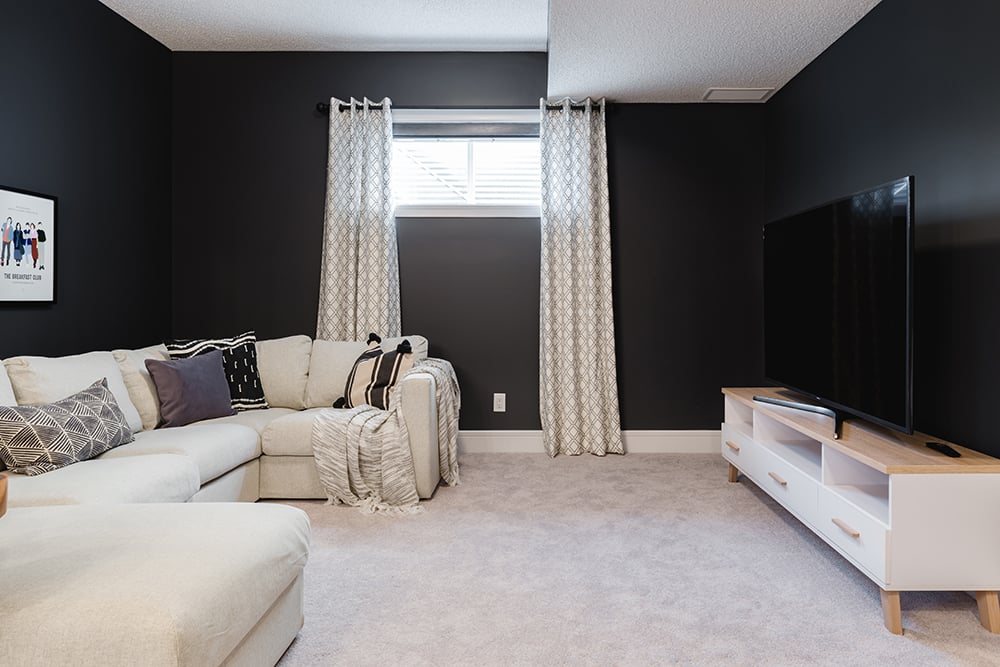 The Desrochers Tallinn
To you, a wet bar and pool table sounds like a disaster waiting to happen. To you, the only advantage that the dark walls in Lusitano's basement have would be to hide unexpected works of crayon art. To you, it's just a given that any piece of furniture, as soon as it enters your home, becomes a magnet for every kind of staining liquid that you own.
To you, we give the Tallinn in Desrochers.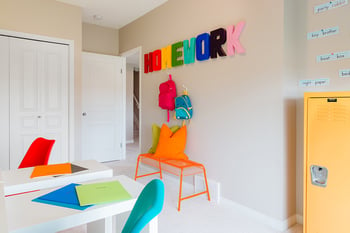 With bright windows, brighter walls and décor, and more than enough space to entertain even the messiest munchkins, the basement in the Tallinn is an ideal space to keep the kids happy and learning. The basement features a full bathroom with hardy flooring, quartz countertops, and a fully-tiled shower surround. Nearby, the family room features a wall of windows, access to the patio, a whimsical feature wall, and more than enough space for the kids to enjoy. The family room is the ideal place to entertain the kids during get-togethers.
The basement also features a secondary bedroom converted into a homework space for the kids. Here, a wide window and yellow feature wall create a bright and welcoming space that is perfect for getting the creative juices flowing. With ample room for homework time and a host of fun décor, the basement bedroom is a great place for getting down to work.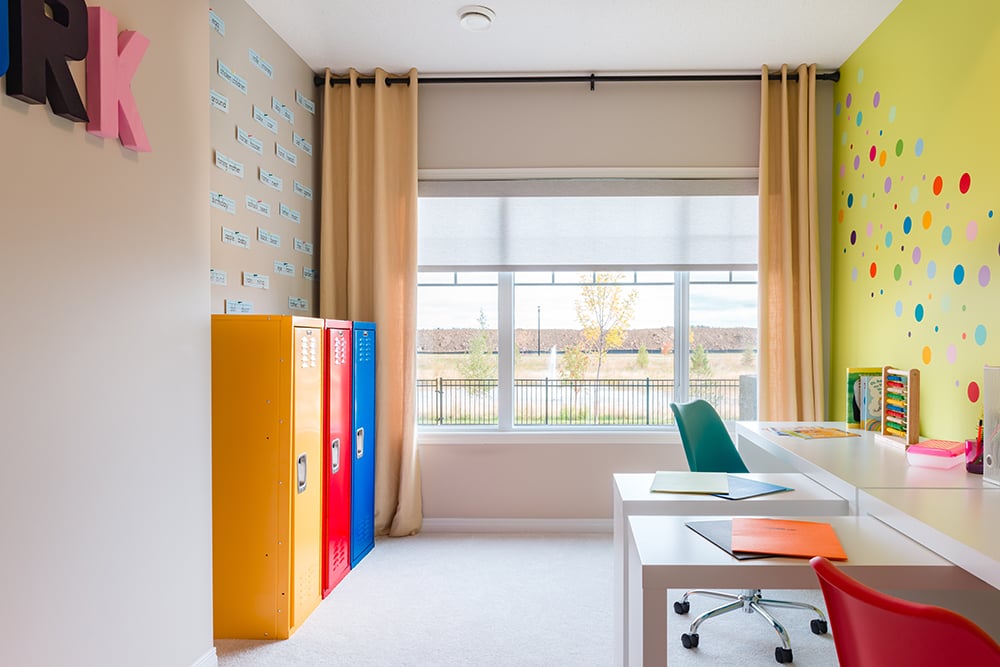 No matter what your interior design taste, there's a home model and floorplan that can be customized to meet your needs. Whether you're dreaming of a basement that is perfect for brining family and friends together, or one that lets you just get away from the kids, there are so many finishes and design styles for you to choose from when building your new home.