Aside from getting your home ready for winter, you'll want to get yourself ready too. It's true that Alberta winters are not for the faint of heart, but thankfully there are some principles you can put into practice to help combat cabin fever.
You may even come to enjoy some of the tasks and activities the long winter months allow you to partake in! Here are a few ideas to keep you from singing the seasonal blues this winter and to take advantage of this season.
1. Tackle Your To-Do List
While cooped up indoors, you might as well tackle a couple of items on your to-do list. How about that family photo album you've been meaning to compile? Or finishing up the end of one of your home reno projects you didn't get around to completing? Have a look at the tasks you just don't seem to ever have time for and enjoy a sense of achievement when you get to cross them off your list.
2. Find Your Inner Chef
Winter is the perfect season to spend time experimenting in the kitchen. Whether you want to master the art of meal planning or just spend some time trying out the dozens of gourmet recipes you've saved on Pinterest, it can be nice to stay in and enjoy the coziness of your kitchen.
Try to focus on creating healthy meals as proper nutrition can hugely impact mood as well. Adopting some clean eating tips and tricks can help reduce that sluggish feeling that seems to come with the cabin fever feeling you can experience during winter months.
3. Take Up a New Hobby
If it's too cold or too dark to be outside, then take up a new hobby! Try your hand at some simple woodworking tasks, learn how to knit, enroll yourself in a local pottery course or something else that interests you. You can try out a hobby that will keep you busy in your own home, or join something that will get you out of the house and socializing. Either way, having an enjoyable task and learning something new is likely to improve your mood and distract you from the drab weather.
4. Crank the Tunes
Music can be very powerful. If you're feeling down or tired, put on some of your favourite upbeat music, and don't be afraid to crank the volume! You may be surprised at just how quickly this can give you a boost. You might catch yourself in the midst of an impromptu dance party. If you are the musical type, then pick up your guitar or bang something out on the drums for some musical therapy.
5. Beautify Your Space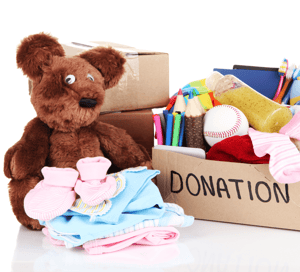 If you find yourself spending more time indoors because of the weather, then make the most of that time! Decluttering and beautifying your space can greatly improve your mood. Go through your home section by section and make a box for things to donate, things to sell, and things to get rid of.
Another way to improve your space and your mood is to allow for lots of natural light. Throw those curtains open during the day and consider getting a "happy light," a special light box intended for treating Seasonal Affective Disorder.
6. Get Moving
Exercise! While beneficial year-round, exercise is extra important during the winter months. You probably know how this works - when you exercise, your body releases endorphins, which make you feel good and improve your mood.
Take advantage of the daylight when you can and do something outside. Something as simple as a walk will provide you with the exercise, endorphins, and Vitamin D you need to feel better. Or try one of many outdoor sports like snowshoeing, cross-country skiing, or snowboarding.
If you don't want to bundle up and brave the cold, consider your options for creating a home gym or check out a local gym. For something more fun, sign up for an indoor soccer team, floor hockey league, karate class, or anything that will get you excited about getting moving! Check out the Edmonton Sport & Social Club for plenty of options.
7. Fly Away
There is a reason so many Canadians are snow birds; when the weather gets rough they fly south for more favourable conditions! While you may not be at the place in your life where you can fly to Mexico or Arizona for the winter, you might be able to get away for a week, or even just a weekend.
It doesn't need to be a tropical or warm destination to do your soul good. Check out a local getaway that's within a few hours drive. Plan a weekend away in Banff or Jasper. Just switching up your location and exploring a new place can do wonders for your mood.
Many Canadians have learned how to make the most of the winter, even though it's often dark and cold. Take advantage of the season in whatever way works best for you. Looking after yourself and making sure you are getting the proper nutrition and exercise you need is a great starting point.
Additionally, finding activities that take you out of the home so you don't feel too cooped up is a huge part of getting through the winter months with a positive frame of mind.
If you find yourself struggling with your mood more than you feel you should be, don't be afraid to seek out the advice of your family doctor. Seasonal Affective Disorder (SAD) is a legitimate mental disorder that affects a small percentage of Canadians every winter, and much like other forms of depression, there are various methods that can help ease the symptoms and improve our mood.
By taking a few easy steps, you can head off cabin fever before it really gets under your skin. So... which one of these ideas are you going to try first?