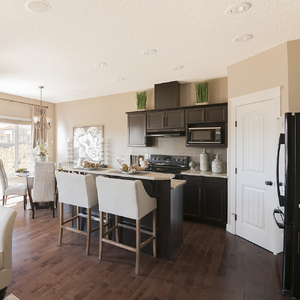 So, you've decided it's that time to move and buy a house. Perhaps this is your first house, or maybe you're just looking for a change. Whatever the reason may be, there is a choice to be made: new home or pre-owned home. You may think this is a somewhat trivial question and that the only factors that are important are the location, the price, and the aesthetics. However, there are some fundamental differences between a new versus a pre-owned home that ought to be factored in to your buying decision.
I'm not going to necessarily try and convince you that one is better than the other. What I will do though, is list the pros and cons of new and pre-owned to help you choose what is right for you. This list will not be fully comprehensive, but it will consist of some of the key points. Let's start with the pre-owned home.
Pros of a Pre-Owned Home
Character
It's no doubt that the right pre-owned home offers character and style that may not be found in some in newer homes. What defines this character will obviously vary from person to person, but typically, the unique materials and design have a unique appeal.
Price
Pre-owned could have a lower price point, but this depends largely on the location and the condition of the house. Building standards of newer homes are higher and as such, the price may reflect that.
Re-sale value (if "antique")
Like an old antique car, if well maintained, re-sale value could appreciate due to the increasing rarity of the property you own. This is important to keep in mind. However, like cars, only very particular pre-owned properties will appreciate in value. A '71 Dodge Dart is going to carry a value that is considerably less than a '71 Dodge Challenger in the same condition.
Cons of a Pre-Owned Home
Mysterious History
Obviously, you'd have no way of knowing what happened in the house before you moved in. Quite often a previous owner deemed him/herself a master handyman and completed a few renovations based on his or her own personal standards. There may not have been an application for permits, leaving you stuck with extra costs and a junction box that resembles Medusa.
Hidden Defects
This has to be one of the biggest concerns in buying a pre-owned home. There's no way of 100% knowing what defects may be found after purchase, whether it is one day or 100 days after move-in. You may have had a full inspection, but internal damage, infestations, or other unknowns may not be apparent until after your purchase date.
Need to Upgrade
This goes without saying. Even if your home was built in 2001, architectural and aesthetic styles have changed, and technologies have changed. If you want the perfect home, there will be upgrades that you need to make. For example, you may find it in your better interest financially to upgrade your furnace to something more energy efficient.
Lack of Customization
This also goes without saying. Any customizations you want to make will be considered upgrades done at a later date for a bigger price.
Price
The surface price may seem nicer, but once all the upgrades and hidden defects are accounted for, you may find yourself having to dish out a considerably larger amount of money than you had initially anticipated.
Re-sale Value
This will most likely go down, unless things are regularly maintained and constantly upgraded, as structural and aesthetic quality will gradually diminish. But as I said earlier, if you make the right purchase (a '69 Chevrolet Camaro ZL-1), although that is relative and hard to determine, you may find your re-sale value appreciates. However, this is obviously more rare.
Ghosts
It's possible...
Let's move onto the new homes. What are the pros and cons?
Pros of a New Home
More Environmentally Friendly

Higher building standards means better materials, higher efficiency, and less wasted energy. In addition, energy efficient appliances, including furnaces, have become the standard.
Higher Building Standards
This is closely related to the previous point. Material quality is constantly being improved, which not only means better energy efficiency, but better durability and strength, which translates to better savings for you in the long run.
No Mysterious History
Enough said.
Customizable
Choose colours, finishings, appliances, landscaping etc. to suit you and your style, possibly at a price.
New Neighbourhood
Not always the case, but typically when you buy a new home you are buying in a new neighbourhood as well. This means newer roads, new quality infrastructure, new parks and green space, and typically increased walkability. It's becoming more and more popular to incorporate environmental reserves into new neighbourhoods, and it has been standard for some time now to include numerous trails and bike lanes throughout newer neighbourhoods.
Price
The price will be more flexible to an extent as you get to choose the price based on the size, lot and amount of customizations you make.
Resale Value
Being that your new home will be up to code and have the latest and greatest technological advancements, your resale value will probably be considerably higher than some of the pre-owned options you were considering.
No Ghosts
Unless you new home is built on an ancient burial ground, or you bring them with you.
Cons of a New Home
Modern-day Character
It's possible that your new home may not show that antique character you were looking for. However, this isn't necessarily true. Customization options make certain aesthetic preferences attainable. There are always other ways to bring in old-world charm, and a visit to sites like Pinterest and Houzz can help.
Price
Price can be tricky because it depends on so much, but it is important to take into account that higher building standards, as well as a stronger emphasis on sustainability, may translate into a larger upfront cost for you. However, this may be seen as an investment. A new home will save you money down the road as less energy will be wasted and less maintenance will be required.
When it comes to making the choice between a new and pre-owned home, it depends where your priorities lie. Overall, there are more benefits to buying new in terms of sustainability, long-term financial savings, structural quality, and overall efficiency.
If you'd like to ask us any specific questions regarding a new versus a pre-owned home, please feel free to visit one of our showhomes, or contact an area manager directly.