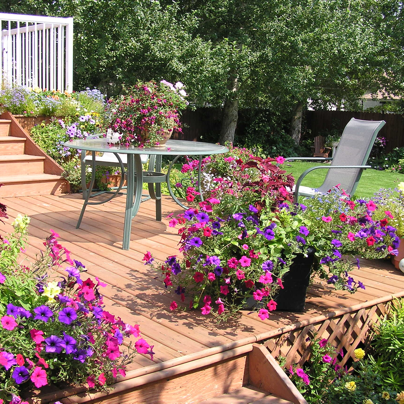 There's nothing I like better than sitting down in my back yard with that morning cup of coffee or around my fire pit with friends. A good morning can start by wandering through and picking some fresh raspberries, gooseberries, or apples to snack on. I've built a few homes and prefer the blank slate of the unlandscaped lot you get to start with, as I have some very specific ideas of how I want to enjoy this space. My favorite resources for plants is Lois Hole's Perennial Favorites: 100 Best for Beauty and Hardiness and Lois Hole's Favorite Trees & Shrubs found at many local bookstores or online. If you plan correctly you will get to enjoy this space more than work in it!

If you are a nature lover like me, you may prefer a patio to a deck but if the thought of being on the same level as the creepy crawlers doesn't appeal to you, planning out a deck might be a better option. During the planning stage of your home, add a deck onto your build and have your builder complete this before your move in!

There are a few things I look for when planning out the back yard. Aside from low maintenance, I like having the birds and the butterflies enjoy the backyard with me. If you start at the outside edges and plant the larger bushes and/or taller trees, you can provide privacy, along with berries and flowers to entice wildlife into your backyard. Do your research to find ones that best suit your needs and grow best in your planting zone.
If you prefer being on a deck, container gardening can enhance the feel of being in the garden. Flower pots can be moved, if they're in containers, to maximize the sun or shade depending on what their preference is; remember to keep the pots watered, as they can dry out quickly if there are several days of sun.
If you love the outdoors - enjoying it not necessarily working in it - plan the space before you create, and then sit back and relax!
Image courtesy of Fotolia.com, @ Brenda Carson