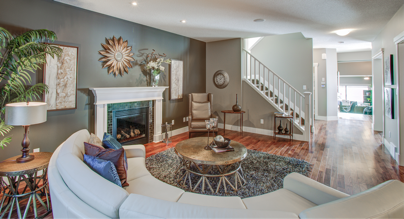 When you build a customized home and oversee building throughout the entire process, you're going to be ecstatic when the house you designed just for yourself is done. But just because you designed the house it doesn't mean it will become a home overnight. It's going to take planning: the right furniture choices, and some great displays of art to turn what your home into a space that you're proud to say that you designed from the ground up. But art is not just designed for living rooms or great rooms; if you know how to select the right pieces wisely, you can display pieces in every room to create the right ambiance and to evoke emotion.
Selecting the Right Pieces for Each Room
Art is not one-size-fits-all. Maybe you don't like abstract art and your neighbour thinks landscape pieces are atrocious. You'll need to consider your own personal taste when choosing any type of art for each room in your home. While your personal taste is important, remember that all of your guests are going to see the art you display in your bathroom, your dining room, and other common areas of the home. If you choose a controversial piece, it would be best to put it in your bedroom or another private area of your home.
A painting that is perfect for the dining room might not be a great choice to hang in the bathroom and vice versa. If you don't have a degree in Art History or you're not the most experienced interior designer, here are some valuable tips you'll be able to use to select appropriate pieces for each room in your new home.
Your Room-by-Room Guide to Selecting Art
The Kitchen
The kitchen is the heart of a home, so don't ignore all that space! All too often, you visit a friend's home and are welcomed by the traditional fruit and vessel painting hung on the wall in the kitchen. Homeowners often choose to invest in absolutely no art all for the kitchen, or will buy art that defines the purpose of the room because they think that's what you're supposed to do. Make sure you don't fall into this habit (unless you want food pics in your kitchen, then by all means go for it!) and take time to choose art that'll make the room warm and inviting.
If you've designed a very simplistic contemporary kitchen with white counter tops, floors, and back splash, make sure the artwork that you choose adds a splash of interest, personality and colour to the room. Bolder paintings in black and white rooms are a hit. In a colourful kitchen, or a kitchen with a darker colour scheme you might want to go with a black and white print that oozes romance and creates some intimacy.
You don't necessarily have to stick with a large piece in your kitchen. If you want to add texture to a wall, buy a series of small paintings that are close in size to create a visual impact you can't make with a single piece. Just make sure any of the themes you choose are appetite-inspiring!
The Dining Room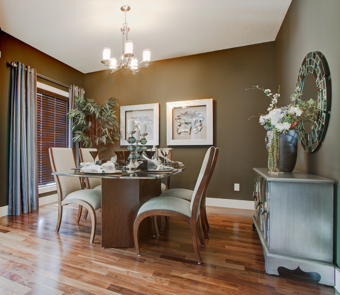 Today, the dining space in a home is most often the kitchen nook but the evolution of open floor plans are every bit as elegant as the dining room you remember as a kid. Whether used daily or for special entertaining the dining space should reflect your personality. You took a great deal of time to design your kitchen and dining area so you could entertain guests while sitting around your table enjoying delicious food and conversation. Let your art be an extension of that design. Consider whether you've designed an open concept or a more intimate and formal enclosed floor plan, then choose pieces that are appropriate. Choosing art for a walled-in room, casual or formal, can be easier because you don't have to worry about picking pieces that will flow well with the art and decor you have in connecting rooms.
In a closed concept dining room, one large statement piece will send a strong message but you don't have to stick to this if you want to do a grouping of art pieces. The style and colour scheme you choose depends entirely on your taste. You may want to buy a traditional painting to add character to a modern room, or a contemporary piece that is dramatic and expressive to spark dinner conversation. Just be sure that you find a way to join living and dining spaces with complimentary pieces if you do have an open concept floor plan.
The Bathroom
Today's homes feature powder rooms that rival some of the most luxurious hotels. Whether the ½ bath or ensuite, adding artwork like décor items, candles or pictures will enhance the space. It is much easier to soak away the cares of the world with relaxing art and soft candlelight. There are some pieces that may not fare well so keep in mind the humidity of the room. After all, you don't want to leave your bathroom open when you shower to save your artwork! Keep delicate pieces and expensive work out of the bathroom just to be safe.
Small spaces are a great area for large singular pieces that are bold and vibrant. If you don't have a window, create a window by adding an art piece that will create the illusion of a window with the added bonus of opening up the space. If you're fun and spunky, you may want to consider framing a piece of pop art to add a touch of fun to the room. Whether you like to admit it or not, you spend a lot of time in the bathroom so why not enjoy the time you spend there?
The Bedroom
Finally, a personal space where you can choose art you want to see when you wake up and go to bed. When you're selecting art for your bedroom you should stick with pieces that evoke happiness and positive thinking. It's all about how you perceive the piece, so look for sculptural elements and framed pieces that'll fit with the design and speak to the best in you.
Personalize your new house and turn it into a home. Make sure you choose the right pieces for you and your family, then take time to hang the pieces at the right height to make a room look larger or more inviting. By customizing each room with special pieces, you'll change the feel of the room and feel proud about the overall look of your home.