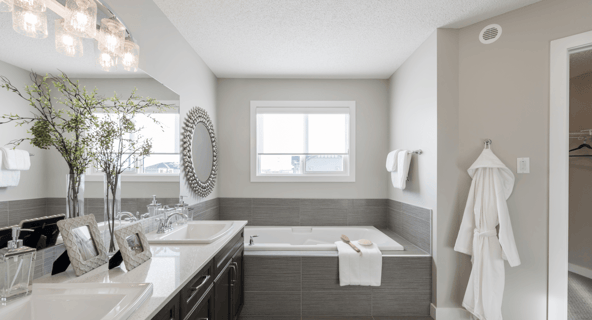 Nothing ruins a morning quicker than a disorganized bathroom. If you're tired of tripping over hair dryer cords and using shampoo as a body wash because you couldn't find anything else, it's time to make a change. And if you're building a new home, you want to start things off right.
With these smart storage ideas, your bathroom can be an oasis of calm instead of a chaos of clutter.
Shelving Solutions
Since so many bathroom elements have to line up with the plumbing hook-ups, sometimes we end up with some awkward spaces in the layout. If you have a nook or corner area that's not quite big enough for a piece of furniture, adding some wire shelving between the two walls can do the trick! You can then place decorative containers on them to keep your items neatly stored.
If you have more open space along a flat wall, opt for a really tall tower shelving unit – there's no point in leaving walls bare. If you don't have a closet for it, this could even be where you store your linens. You might even pick one that has a deep drawer at the bottom which can be used as a laundry hamper!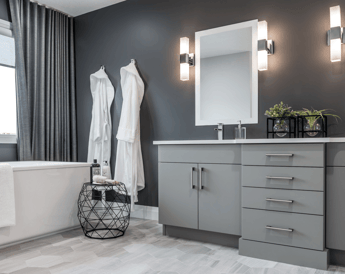 Finally, maybe the extra space you have is more horizontal – such as the open area beneath your bathroom window. Why not get yourself a moveable bar cart, and transform it into a bathroom supply centre? Everything can be kept tidy with containers and you can even hang hair tools from hooks off the side. It's also nice that it's moveable; if all your makeup is stored here, you can wheel it closer to the mirror while you get ready making it easier to put everything back in its place right away.
Cabinets, Cubbies, and Drawers (Oh My!)
First and foremost, you're going to want to have a vanity that's well-equipped with storage spaces! Vanities with drawers as well as wide-open cabinets are good choices, giving you room for items of all different sizes. Alternatively, if you're wanting a "his and hers" style of vanity, do it right. Choose a longer vanity that leaves space between the two sinks and, in the middle, you can have cabinetry that reaches up to the ceiling. This gives you plenty of space for necessities, in addition to having cabinets below.
If floating shelves would stick out too much, consider instead having cubby spaces set into the wall. We want more storage without obstructing open spaces! Another way to achieve this is to maximize space inside your shower. There are shower caddies to fit any type of shower, and you can even get one with multiple tiers so each person who uses that shower can have a separate shelf for their products.
Wire And Wicker
Maybe the only area in your bathroom that feels free to use is the floor – we can work with that! Depending on what you need storage for, you can find items to suit your needs. Large fabric or wicker baskets can be used as laundry hampers here. Other choices include tall wire and glass side tables if you need more surface space. And something like this five-tier wire tower is perfect for storing loose and often-used items.
Wicker baskets are also suitable to be placed on open shelves or simply on open counter space. If you appear to have no surface room, look up! By attaching a hook to your ceiling, you can actually hang storage baskets; who says three-tiered hanging wire baskets belong only in the kitchen filled with fruit?
Make Use of Existing Space
Storage Tub
A large soaker tub is a treasured bathroom feature, but also takes up quite a bit of space. To make the most of it, consider choosing a design with a wide tub deck. Your builder can then build a shelving unit that stands on the tub deck – this would be a great place for items such as soaps and face towels, for easy access during your soaks. If your tub design doesn't allow for this, hooks, vertical bars, or floating shelves along the wall at the foot of your tub are alternative options.
Up Overhead
Since toilets are so low to the ground, there's a lot of empty wall space above them that often goes unused. Don't make this mistake – make the most of every area in your bathroom. You can find shelving units that wrap around the toilet frame, install open shelving, or apply the hanging basket idea here! At the very least, you can place a small basket on top of the water tank to store a couple extra rolls of toilet paper – that's something you definitely want within reach.
Gap Areas
Take a look at your bathroom layout, are there any narrow, unused spaces? Perhaps between your shower and toilet, or vanity and a wall? A clever way to make use of even these seemingly useless empty spaces are to get a narrow sliding storage tower. This could be a great place to keep cleaning supplies, as it keeps them tucked out of sight but is still accessible enough for frequent usage.
Additional Tips
Compartmentalize your drawers. This means giving each family member who uses this bathroom their own personal drawer, if possible. Including drawer dividers takes it one step further to keep everything in its place.
Cabinets offer big, open spaces, but this isn't always the best set-up for smaller items. Stack plastic drawers within it and add hooks or caddies on the inner wall of cabinet doors to break up the space.
Are you currently using one or two hooks on the back of your bathroom door? This can be crowded or heavy. Switch to horizontal towel bars. You can include multiple in a row so each family member can hang their towel to dry better.
Alas, never forget the power of a Lazy Susan. A spinning one for perfumes and lotions, one with a holder for toothbrushes and paste, one with more than one tier for hair accessories – the possibilities are endless.
Keeping a clean and organized bathroom starts with having the right features. Rearranging a few things in your current bathroom can make your morning routine run smoother. If you're building new, talk to your builder about how you can include bathroom storage that, as the title says, actually makes sense.