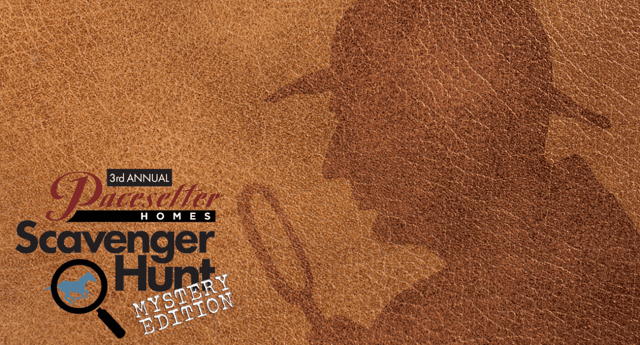 If you missed it, we announced on August 1st that our 3rd Annual $10,000 Scavenger is back, and it's bigger and better this year! Are you ready?
Starting September 30th, clues will be released twice per week in past years, but this year there is a twist. We have TWO games! You can play one, or both, but the more you play the more chances you have to win a prize. The event runs until November 15th.
This year's event is a MYSTERY EDITION. A crime has been committed. You need to solve it by following the clues.
The Mystery:
One of our Area Managers has stolen a painting out of one of our show homes. We know, what the heck was he or she thinking?! But we need you--our detectives--to solve who stole it and which show home it was stolen from.
Main Game (Grand Prize):
The main game is your ticket to the $10,000 Grand Prize. Solve the location of the crime scene (one of our show homes) and you will have found the draw box. This game is similar to past years where clues are given to help you eliminate models, except this year it's a bit easier--we've eliminated a bunch for you already so you have a smaller list to go through. Once you solve the crime scene location, visit that location before the deadline to enter your form into the draw box.
Bonus Game (Weekly Prizes):
This year we've added a bonus game. Through various clues revealed throughout the event, you'll need to deduce which one of our Area Managers is the "Culprit" who stole the painting. Each week you'll collect clues, and the suspects you eliminate become your entries into the weekly draws. These draw boxes are located at all show home locations, so you can drop your Bonus Game entries at any show home.
As in past years, two clues have been released each week: one on social media/website, and one at select show home locations you'll have to hunt in the homes to find. This year is the same, but you'll receive FOUR clues per week instead (two for each game).
Once you solve who the Culprit is, this is also an extra entry into the Grand Prize Draw, so be sure to enter both into the Grand Prize Draw box. Your starter kit will include entry forms for both games.
Grand Prize Draw Box:
The final clue for the Grand Prize draw will be given out on November 14th. The Grand Prize draw box will not be available until this date (you can't solve the crime scene location until then, anyway.) This draw box will be stationed in its location until 4:45pm on Sunday, November 19th, 2017. Your entry MUST be entered into the box by this date and time to be eligible.
The Grand Prize Draw and Early Bird Draw (ended August 31st) will take place on December 1, 2017. Weekly Prize draws will take place on Wednesdays following the previous week's entries. Weekly entries must be entered by 4:45pm on Sundays to be eligible.
Let's Solve the Mystery!
Are you ready? Click the button below to register for this year's event and get ready to hunt for your chances to win!
Clue #1 for both games will be released before the official game starts, so watch social media and our website to obtain this clue!