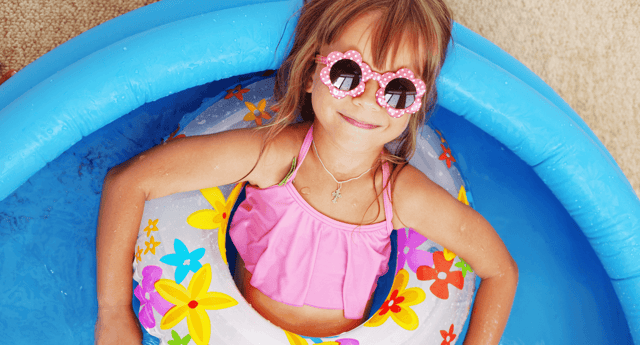 It's 30 degrees out, you're fanning yourself with a spatula as you try to prepare breakfast in a steamy kitchen, while your children are complaining of heat and boredom. We can all relate.
The carefree feeling of summer can easily fade when your kids become tired of playing at the local playground and are tugging at your sleeve for entertainment. One of the most fun places to beat the summer heat is at an epic water park…
Guess what? You don't have to leave home for this!
You can deck out your own backyard with water balloons, slippery slides, sprinklers – the possibilities stretch as far as your imagination. Get creative (and wet) with these do-it-yourself projects that are the definition of cool!
1. Soapy Slip 'N Slide
This idea is really easy to put together. If you have a camping tarp at home, you're already halfway there. You'll also need your garden hose and some cheap shampoo or dish soap. While any sort of plastic tarp will do, you may want to consider finding one with a pretty smooth surface, especially if your little ones are likely to go sliding belly-first.
Place the tarp in a grassy area free of obstacles (it's especially fun if you have a slight slope) and squirt some soap over the surface. Set your hose to a light spray setting, aim the stream at the tarp, and you have your homemade water slide. Remember to periodically add more soap for smooth sliding!
2. Popping Piñatas
Piñatas, but instead of being filled with candy, they're filled with – you guessed it – water! Hang a strong piece of rope horizontally between two trees or fence posts. Fill some large balloons with water and tie them along your rope line. Equip the kids with a plastic baseball bat and enjoy the hilarity of watching the water balloon piñatas burst all over them! Remember the one-at-a-time rule.
3. Sprinkler Limbo
Another twist on a classic game, sprinkler limbo takes a little more handiwork but will be something you can store and reuse for years. You'll need some PVC pipe, a hose connector piece, and a drill.
First, cut the pipe into two poles of equal length for the legs and another slightly longer pole for the limbo stick. Drill a bunch of small holes into the limbo stick, attach the hose connector to one end, and cap off the other. Assemble all three pieces and stick it into the ground. Once you attach your hose to the connector piece, water will spurt out of the holes in the limbo stick. Challenge the kids to see how low they can go (and how wet they can get!)
4. Sponge Bombs
There's a softer, reusable alternative to water balloons – sponge bombs! Pick up a pack of rectangular kitchen sponges and cut them vertically into strips. With a handful, secure them together in the middle using string. Make sure it's secured tightly, and the sponge should fan out like spider legs. Toss them into a bucket of water to start up an explosive game of water dodge ball!
5. Water Balloon Catapult
Take water balloon tossing to a whole new level with a homemade catapult! You'll need one long plank of wood and a small, thicker block of wood. Place the block of wood under the plank (about a quarter way from one end) and secure it with screws, then screw a plastic container to the top of the plank at the other end.
Have your kids place a water balloon (or a sponge bomb if you've made them!) in the container, then stomp on the opposite end of the plank to make it fly! Kids can see how far they can launch it, use it in a water battle, or even add a little splash to batting practice. Make sure they're wearing shoes for safety.
6. Noodle Sprayer
No, this one doesn't spray noodles everywhere. It's a simple, cheap (we're talking as low as $2) but wildly fun DIY sprinkler made from a pool noodle! Buy a pool noodle – which you really can do with just a toonie at the dollar store – and puncture it with tons of holes.
Close off one end with a small piece of foam or plastic cap and secure with duct tape. Place your hose into the other end and you're all set! You can leave the sprinkler on the ground for the kids to run over, or hang it from a structure, like a swing set, for them to run under.
7. H2O Blob
This final project still uses water as the main ingredient but doesn't actually get you wet. Get a large piece of plastic sheeting, fold it in half, and seal all the edges to make a "bag". Some people use duct tape for sealing, but others have used an iron and wax paper and say it's more leak-proof.
Leave a small section unsealed and fill your giant plastic bag with water, then seal that final section. It's like a makeshift water bed! Kids should be able to jump and slide on the water blob, or can simply lay down to rest and keep cool between activities.
Some ideas we've shared today can be easily thrown together, while others are a bit more elaborate. But any of these projects will beat the heat and keep kids amused for hours (and let's admit: parents won't be able to resist joining in on the fun, too!)
With a few supplies and some creativity, you'll have the recipe for a summer of joy and laughter for the whole family – just add water!