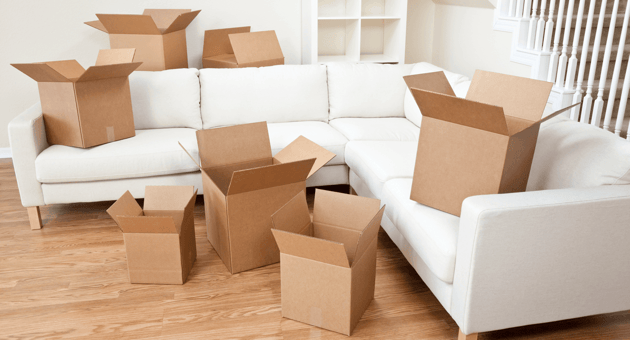 Congratulations on your new home! Now, can we can talk about the ever fun process of moving?
As you may have already considered, a moving company is a great way to make moving day less stressful and strenuous - if you do it right! Choosing the right moving company is incredibly important since these movers will be handling all your life's possessions. For this reason, and because we like to be helpful, we have put together this handy tip sheet for hiring the best moving company for the big day.
Tip #1 - Ask Around
It can be a pretty overwhelming task at first if you've never had to hire movers. So, what do you do when you are looking for a reliable trustworthy service? You ask! If you have anyone in your life you know has moved recently, it may be a good idea to reach out to them for possible recommendations.
If that doesn't work, checking online reviews and listings is your next step. Just because a company looks flashy or you may be familiar with their branding doesn't necessarily guarantee quality service. For worry-free service, you want to make sure you're directly looking at regulated moving companies, rather than websites that find movers for you. Recommendations from happy customers who have had their items safely moved by reliable companies are often the easiest and most reliable route to desirable service.

Tip #2 - Dig A Little Deeper
Even with a recommendation, you need to investigate the service for yourself. Avoid the countless online scams that act as third party organizers for movers and customers. Do an overall comprehensive investigation for yourself. Beyond just online reviews, you can find ratings and assessments of business listings through the Better Business Bureau and the Canadian Movers Association. If they are not a member of this association, abort mission!
Some details to look for in your research:
do they know about the Good Practice Guidelines for Canadian Movers?

do they have a pamphlet detailing yours and their rights and responsibilities?

will they provide you with a valid insurance certificate?

do they own their own trucks?

ff being stored overnight, where and is the area safe and secure?

who will take care of your belongings once they arrive at your new home?

do they have a Workers Compensation Board Certificate? (you don't want to be held responsible if one of their people gets injured)


Tip #3 - Get An Estimate
So you called the company that fits all your needs - they are fully booked on your moving day. Now what? This is one of many reasons to select a few different options when it comes to taking it to the next step. The Canadian Movers Association recommends to research your prospective moving companies and to receive estimates from a minimum of three separate companies. They also recommend getting those estimates in writing for you to use to follow up. The details your quote should have include:
the date (both of the quote and the moving/delivery date)

pick up address and delivery address

number of boxes and sizing

values

cost per hour with total number of hours (or flat rate if that's the way they charge)

terms of payment
You also want to make sure the quotes are official - i.e.: on company letterhead and/or carbon copies so what you have matches what the company has, plus ensure you get the full name of whoever you speak with. And if a company offers to do a quote for you over the phone, without actually seeing what you have, go somewhere else.
Estimation time can be very important to the overall process going smoothly. You need to show them everything.
Every. Single. Thing.
The closets, the attic, the shed, under the bed, the storage, your secret stash of action figures, everything. If what is presented on moving day isn't assessed to match the estimate, you could create problems for yourself. It might mean a higher rate, and it could delay the process.
Tip #4 - Review and Compare
Alert the mover to the circumstances of the new living space in terms of where movers will enter and if there are any stairs or elevators during the journey. Review those estimates and compare. If one estimate is drastically lower - don't jump for joy just yet! This could be a red-flag. But comparatively the drastically higher bids aren't necessarily worth the extra cost. Investigate where the costs come from - ask! You may be able to barter and negotiate a fairer price since there is so much competition.
Double check your reviews! Before you commit take a moment to make sure there is nothing making you feel apprehensive. It is not worth the chance of destroying a lifetime worth of possessions or some other disaster should you choose the wrong moving company. Scams are plentiful and take advantage of customers by promising unrealistic and impossible service. These con artists may sense you are unaware of noticing their red flags, or blindside you on moving day with jacked up rates with items taken hostage without payment in full.
Make sure you know the details and again, that you have it all in writing:
who is responsible for packing? Do the boxes have to be brand new?

should the boxes be labelled and sealed?

is any documentation required, and if so, whose responsibility is that?

would the estimate be more/less if moving at a specific time of year?

is a deposit required and is it refundable?


Tip #5 - Get the Details
Once you know you've done your homework, it is time to go ahead with booking the day and company. Confirm everything and on your moving day, ensure to receive and approve of their written inventory list. Exchange cell phone numbers and get ready for all the chaos to finally come to a climactic close once you are settled in your new home.
One other thing to check before you book: your homeowner's insurance policy. You want to make sure it covers your move. If not, ask about Replacement Value Protection. The last thing you need is to be paying for your move, and then paying for any damages! Make sure to confirm the timeline if you did end up needing to make a claim.
You will not regret investing the time and money in finding a reputable service. After all, your stuff is important to you, and it should be important that whoever moves it. Follow the tips above and you're in for smooth sailing come the big day. Happy moving!