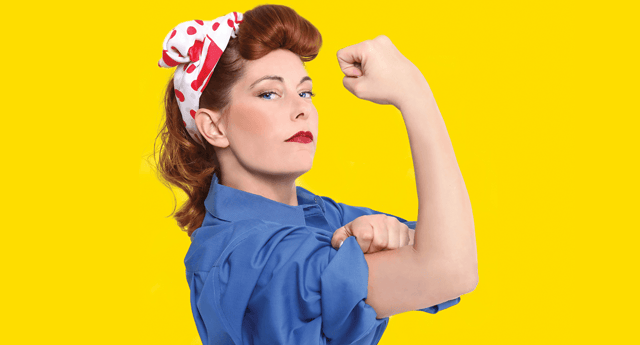 Halloween is right around the corner and you've decorated your home, shopped for treats and spooky snacks, and carved your pumpkins. But you just can't decide on costumes. Or maybe, you just don't want to spend money on an expensive costume at the pop-up store.
We can help!
Check out these easy, fun Halloween costume ideas you can make with items you have hanging around the house.
Costumes for Children
A Bag of Jellybeans
Create a jelly bean costume using some colourful balloons and a clear trash bag. Just make sure your child wears a white shirt and pants or tights underneath this costume to show off the jelly beans!
Charlie Brown
Do you have a child who loves Charlie Brown? To make this quick Charlie Brown costume you need a pair of black shorts, a yellow shirt, black fabric paint or a black marker for fabric. If you have a stuffed Snoopy around the house add to the costume to make it even more fun!
Scuba Diver
A scuba diver costume is both fun and easy to make. It starts with a simple outfit of sweatpants and a hooded sweatshirt. Some of the other materials you'll need include: black paint, two 2-litre empty soda bottles, foam hair rollers, goggles and masking tape. As a bonus, this is an especially warm costume on a chilly Halloween evening.
A Box of Candy
A box of candy costume is easily made with a big box, a box knife and some colourful paint. The paint colour you use depends on the type of candy box you want to make for your child.
Costumes for Teens
A Black Cat
Making a black cat costume can be done in about five to ten minutes. All you need is a black tee shirt or really any black shirt you like. Make cat ears out of black construction paper or felt, and glue them to a headband. Use a black eyeliner pencil to draw on your whiskers and paint your nails black to enhance the effect!
A Mad Scientist
A mad scientist costume is made up of just a few items you probably have around the house. Yellow dish gloves, a mock lab coat, safety goggles, jeans and a black tee are the basic elements of this costume. A goofy wig is a fun addition. But, if you don't have a wig, your son or daughter can mess up their hair with gel or mousse. You can also easily make a lab coat out of an old shirt.
Holly Golightly
Is Breakfast at Tiffany's on your list of favourite films? If the answer is yes, why not go to this year's Halloween party as Holly Golightly? An elegant, yet simple black dress, black heels, a long string of pearls, black gloves and cat's eye sunglasses are all you need to morph into Holly.
Teen Wolf
When making a Teen Wolf costume start with a plaid shirt. Next, get some fake fur to cut up and stuff into the cuffs of the shirt. Brown eyeliner is perfect for drawing fur onto your wolf's face and be sure to get his or her hair nice and messy!
Hip Hop Candy "Rapper"
This is the perfect costume for a teenager who loves rap. This candy rapper costume requires a white tee-shirt, black pants and a snazzy black hat. You can either make a collection of fake wrapped candy to attach to the shirt or use real candy. A chunky gold necklace and fake microphone add to this clever ensemble.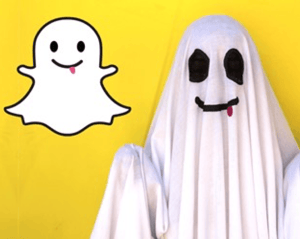 The Snapchat Ghost
If you're a teen who is a fan of Snapchat, why not try this easy costume for Halloween? The Snapchat Ghost costume is a white sheet decorated with the silly face of this famous character. Be sure cut some holes in the sheet so you can see.
Costumes for Adults
Chip on Your Shoulder
The Chip on Your Shoulder idea is one of the simplest last-minute costumes you'll ever see. First, get a tee shirt in your favourite colour and a small bag of potato chips. Next, tape the bag to one shoulder and you're a walking metaphor!
Rosie the Riveter
An easy to make costume that's a throwback to the 1940s. To become Rosie the Riveter put on a denim shirt and jeans. Roll up the sleeves of the shirt and pull back your hair with a red bandana. A coating of bright red lipstick is the final touch.
Wednesday Addams
Do you have a black dress and white top in your closet? If so, you have the materials for a Wednesday Addams costume. Be sure to braid your hair and dust some white makeup on your face to give you that extra pale look.
The Brawny Man
You probably have a lot of the elements for the Brawny Man costume around your house. Start with a pair of jeans and add a plaid shirt, belt and work boots. Don't forget your six pack of Brawny paper towels. The best thing about this costume is you're prepared to clean up any spilled drinks.
These are just a few easy costume ideas to stir up your creativity. This Halloween try going non-traditional and impress all your friends with a unique costume!