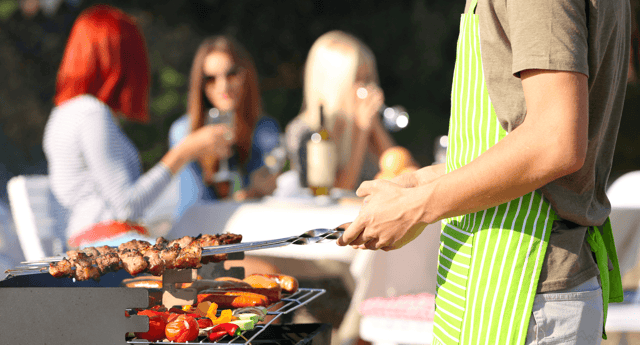 Say goodbye to winter stews! Summer is officially here, so it's time to embrace lighter and zestier meal plans. Here are just a few recipes you might want to try as a summertime chef.
1. Taco Lime Grilled Shrimp
Nothing says "summer" like the taste of lime bursting on your tongue. Throw in some homemade shrimp skewers and you have yourself an amazing dish for your next barbecue or pool party! All it takes is a mix of olive oil, lime juice, taco seasoning and freshly-peeled shrimp. After marinating the shrimp in the sauce, put them on skewers and grill until you see char marks. They're sure to be a hit among your guests as beautiful and delicious finger foods.
2. Soy and Sesame Short Ribs
If you don't mind getting a little messy, these soy and sesame short ribs will make you feel like a kid again as you smear your mouth and lick your fingers. Flavoured with everything from brown sugar to red pepper powder, they're a delectable blend of sweet and spicy, and the meat will just fall off the bone if you prepare it correctly. You might need some extra napkins for this dish, but it'll be well worth it!
3. Hawaiian Grilled Cheese
Bring a little taste of paradise into your kitchen with the Hawaiian grilled cheese. It takes the standard grilled cheese recipe and gives it a tropical twist with the addition of pineapple, ham, and tomato. Best of all, it'll only take a few extra minutes to prepare, so you won't have to slave over a stove during the hottest season of the year. You can whip these up for kids or guests in no time at all, and you won't have to sweat all day to do it!
4. Mediterranean Chickpea Salad
Bright and colourful, this Mediterranean chickpea salad will look gorgeous as the centrepiece of a garden party. It's comprised of two parts: the veggies and the vinaigrette. The veggies include cucumbers, onions, bell peppers and all the chickpeas you can eat; the vinaigrette is a fresh and zippy mix of lemon, parsley, and white wine vinegar. Your guests won't know whether to eat the salad or just admire it, but you'll definitely get compliments either way!
5. Crab Hush Puppies
You'll need a deep fryer for this one, but the end results are worth it. Crab hush puppies are some of the tastiest hush puppies you can make, especially if you follow this particular recipe using blue crab meat mixed with cornmeal and crumbled bacon. They'll practically melt in your mouth once you bite through their crunchy exterior, and their bite-sized nature will always leave you grabbing for another. They'll also look picture-perfect when piled high in a summertime picnic basket!
6. Zucchini and Summer Squash Frittata
Upgrade your usual breakfast with a zucchini and summer squash frittata. Not only is it a vibrant, healthy alternative to sugary cereals and pastries, but it can also be made with ingredients from your own garden. Just prepare the veggies like a stir-fry before adding your eggs and letting them set. You might make a few scrambled dishes before you're able to form the perfect frittata, but it'll still taste delicious, even if it's a little messy.
7. Turkey Lettuce Wraps
A lot of people don't like heavy foods when it's hot outside. Thankfully, you can still enjoy the taste of tacos and sandwiches when you substitute lettuce for bread. These turkey lettuce wraps combine mushrooms, scallions, chestnuts, and soy sauce to give them a unique appearance and flavour, but you can switch them with just about any ingredients of your choosing. As long as they're wrapped in iceberg pieces, they qualify as a tasty and low-carb lettuce wrap.
8. Watermelon Salsa with Mint
Do you throw away a lot of uneaten watermelons after the kids get over their initial enthusiasm at breaking it open? Try using the leftovers to make a fun summer dish like watermelon salsa with mint. It'll be crunchy and flavour-filled with lots of contrasting colours as you mix together onions, cucumbers, mint leaves and cubed watermelon pieces. You can also top it off with a dash of honey for some extra sweetness. Serve it with chips or use it to add some personality to a chicken or seafood platter.
9. Caprese Quinoa Bake
You don't have to stop making casseroles in the summer. You just need to move away from thick, hearty ingredients and go for something a little lighter. For example, this caprese quinoa bake will provide all of the cheesy goodness that you'd expect from a casserole dish while also looking cute, fresh, and summery. It uses mozzarella balls and cherry-red tomatoes to keep things fun.
10. S'mores Icebox Cake
When you're done with dinner, it's time for dessert! This s'mores icebox cake is deceptively simple to prepare, requiring only a few ingredients and an overnight chill in the fridge, but its taste will linger long after you've put down your fork. Between its chocolate pudding centre and marshmallow whipped cream topping, you won't forget the impact of this summer treat anytime soon!
These are just a few recipes that will be perfect for backyard barbecues and pool parties. It doesn't matter if you're a wizard in the kitchen or a newbie still figuring out all of the buttons on your oven; if you can dream it, you can cook it!