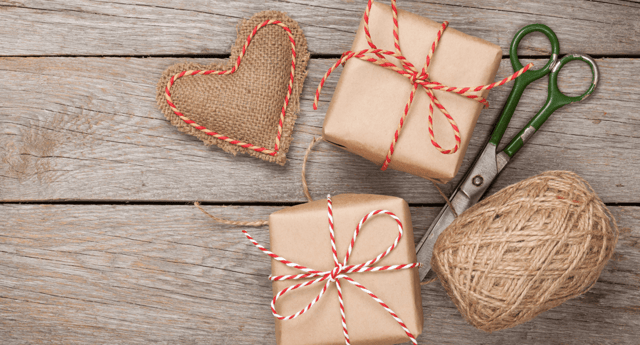 Valentine's Day is just around the corner, and suddenly every store seems to be decked out in red and pink. Year after year, chocolates, flowers, and candy hearts continue to hold the top spots for go-to Valentine's gifts.
If you've found yourself bored with the "same old thing", tap into your creative side and try something new this year. Below, you'll find 14 thoughtful and meaningful do-it-yourself gift ideas that can't just be bought.
1. Heart & Arrow Wreath
A decorative idea is a heart and arrow wreath. You'll need a heart-shaped frame, such as one formed from wire, for the basis of your wreath. Other than that, you can pick and choose from materials to attach to it.
Ribbons, artificial greenery, or plastic flowers are all options - anything that suits your home style. Top it off with an arrow cut from card stock and hang it on your door as a warm welcome to your loved one.
2. Hugs & Kisses Mason Jar
The simplicity of this idea doesn't make it any less charming. Decorate a mason jar and fill it with Hershey's kisses. You can tell the recipient the chocolates also work as tokens for the real thing ;).
3. Love Potion
Cast a spell of love with another DIY project using mason jars. Put together a box that holds a decorated mason jar, a heart shaped ice-cube tray and some ingredients such as juice or pop (and maybe something a little stronger). Include a printed out drink recipe and you've made your own "love potion kit".
4. The Five Senses
To really treat your partner, put together a five-part gift that indulges each of their senses. Print a picture they can see, burn a CD they can hear and bake a cupcake they can taste; pick up a candle they can smell and a fuzzy blanket they can touch. Get creative. This is a great way to show them you can sense just what they need.
5. Personal Scratch Cards
Your partner can win big this Valentine's Day with homemade scratch cards. Draw some hearts on a piece of card stock, and within the hearts, write down "prizes" to be won, such as favours they can cash in at any time.
Then, cover it with some clear contact paper (or clear tape). Using two parts metallic acrylic paint and one part dishwashing liquid, paint in the hearts to create a scratch-off solution.
6. 52 Pick-Me-Ups
If you've got a few old decks of cards lying around the house, turn one into a feel-good gift. Write or print out 52 little things that made you fall in love with your partner, then tape them onto each playing card. You can then punch holes through the deck and hold it together using binder rings to make a little book titled "52 Things I Love About You".
7. Bacon Bouquet
Getting a bouquet of flowers is nice, but getting a bouquet of salt-cured meat is definitely much more interesting. Introducing the bacon bouquet! Roll up strips of bacon to resemble roses, hold them in place with toothpicks and place them on a rack to be oven-cooked.
To complete the look, use just the stems off plastic roses and replace the flower parts with your bacon petals. How did we even wait this long to introduce this awesome idea? Yeah, we don't know either.
8. Valentine's Dominoes
Not only is this gift fun to make, it'll be fun to use. Using small rectangular pieces of wood, you can design your own Valentine-themed set of dominoes. The real gift is the time spent playing together.
9. Rustic Wood Letters
One of the best parts about DIY projects is the ability to repurpose things you already have. If you have some scrap wood lying around, you have all you need for this simple project. Gather some pieces to create rustic wood letters that can be put on display. Letters like "X" and "O" are cute and easy enough, but you can get as ambitious as you'd like.
10. Carved Initials
Remember how cute it was to carve your initials into trees to memorialize your love? Since you probably can't bring a full tree into your home, these DIY keepsakes are just as cute.
Drill into the top of a shortened log to form a hole that can fit a tea candle. Carve your initials into the side and you have a romantic candle holder. If you want to steer clear of the power tools, you can get a large wax candle and carve into it instead. Some paint on either of these options can add a beautiful finishing touch!
11. Floating Memories
Cooking your partner a nice dinner on Valentine's Day never really goes out of style. To up the intimacy, hang photos of the two of you with ribbons attached to helium-filled balloons. The balloons will float to the ceiling and you can dine under a chandelier of memories.
12. Brewing Love
No dinner is complete without drinks! Pick up a case of beer. Cover the labels with homemade labels featuring adorable messages for your Valentine. The same could be done with a bottle of wine. Everyone is happy; enough said!
13. Valentine's Coasters
While you're at it, why not make some Valentine's coasters to match? Grab some inexpensive cork coasters and decorate them with painted on hearts or love notes.
14. Dates For Days
Valentine's Day shouldn't be the only time of year to have a date night. For a gift that keeps on giving, label 12 envelopes with the names of each month of the year (one per envelope). Each one contains the details for different pre-planned dates. Whether they take place at home, in your local area, or out on the town, you'll both look forward to those times spent together.
This Valentine's Day, show your loved one just how much you care with one (or many) of these personalized gifts. Not to be cliché, but these gifts truly come from the heart.