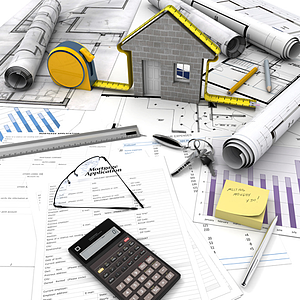 When you are working with a homebuilder, it's important to get the type of financing that is required. Builders may use a couple different ways to finance your build. Either a draw or completion mortgage may be their preference and there are benefits to both, although your builder may only offer one option.
Draw versus Completion
A Draw, commonly referred to as a Progress Draw Mortgage, is when funds are advanced to the builder in intervals as the house is being built. Banks vary on draw schedules but generally there are 3 draws – one at frame or rough-in completion, one at finishing, and one at possession.
Each draw requires a Progress Inspection Report. This guarantees that the sufficient progress has been met so the bank will fund the appropriate amount. It's important to note that the final advance is not released until the inspection confirms the home is completed and all mortgage paperwork has been signed. Often there may be seasonal items that are outstanding when the client moves in, however this is quite normal in our climate!
The Completion Mortgage means that the mortgage will not be in your name until the possession date. You will make a down payment as per the schedule on your contract and the mortgage amount will be advanced to the builder at possession.
Draw mortgages will be administered through the mortgage specialist and as some banks lock rates in at first draw this can be an attractive option when rates are rising.
Considerations
A credit check will be required prior to doing either one of the mortgage options – a Draw or a Completion. This means that it is not a good idea to make any other large purchases during this process. If you want to buy a car, a boat, or anything else that needs to be financed, you want to wait until after you have secured the mortgage and the documents have been signed. Until the house is officially in your name and your mortgage is complete, you want to put all major purchases on hold.
CMHC & Genworth are mortgage loan insured as the Bank of Canada regulations dictate that banks can only loan 80% of the value of the home, any amount short of that requires the mortgage to be insured. This allows purchases to buy with minimum of 5% of the purchase price as a down payment.
Whatever the mortgage amount may be, any draw on funds will have interest accrued on it. Check with your builder to see if they are covering the interest or if it is your responsibility.
Tips for Getting a Mortgage
Regardless of what kind of construction mortgage the builder offers, you will need documentation. This includes income confirmation and sometimes a letter from your employer stating that you are currently employed, with whom, and for how long. You will also require proof of down payment, whether from a deposit in the bank, rrsp or gift letter, and a signed contract with a builder.
Depending on whether you have a draw or completion mortgage, the bank will order an appraisal completed based on the information included in the contract.
The builder will supply plans and specifications if the home is to be built but if the home is already under construction they will make a visit to the site. Prior to turn over of them home the bank requires you to have fire insurance, so it is something you will want to work on with a insurance company as you move closer to the possession date.
Working with a mortgage specialist that is used to your builders process will greatly alleviate any hassles and reduce the amount of time you spend getting your approvals in place.
Image courtesy of Fotolia.com, @ Franck Boston